March 2, 2001

Volume 29, Number 21

Two-Week Issue

---
| | |
| --- | --- |
| | Trista Miller '04 of Calhoun College practices for the gymnastic team's upcoming match in North Carolina |


Leaping Bulldogs! A Photo Essay
The members of the Yale gymnastics team were still flying high after capturing their 12th Ivy crown on Feb. 24. University Photographer Michael Marsland captured these images from a recent practice session in Payne Whitney Gymnasium.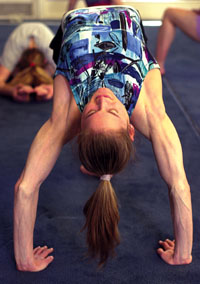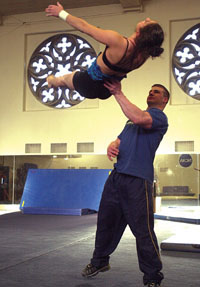 Above Left: Katie Kleiner '01 of Davenport College limbers up her muscles by stretching into a back arch. Above Right: While assistant coach Jared Cassidy looks like he's lifting up Jamie Green with one hand, he's actually just "spotting" for her, as she executes a flip.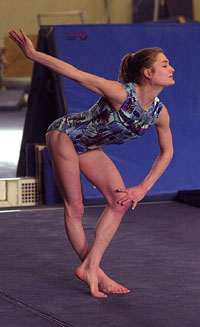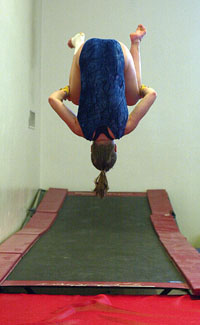 Above Left: Katie Kleiner finishes a floor routine with a flourish. Above Right: Erin McArdle '04 of Berkeley College tumbles in mid-air.
---
T H I S

W E E K ' S

S T O R I E S


Study shows cocaine can harm brain permanently




Forums explore democracy on local level




Director Spike Lee slams 'same old' black stereotypes in today's films




Head of NFL explains the economics of running a football league




Brooks appointed to Sterling Professor of French and Comparative Literature




Nordhaus is Sterling Professor of Economics




YCIAS awarded Carnegie grant to support study of globalization




MEDICAL CENTER NEWS


Ranis will help assess usefulness of World Bank




Leaping Bulldogs! A Photo Essay




Dr. Theodore Lidz, a noted specialist on schizophrenia, dies




Parking Service now offers online renewal forms




Campus Notes


---
Bulletin Home

|

Visiting on Campus

|

Calendar of Events

|

In the News

|

Bulletin Board



Yale Scoreboard

|

Classified Ads

|

Search Archives

|

Deadlines



Bulletin Staff

|

Public Affairs Home

|

News Releases

|

E-Mail Us

|

Yale Home Page
---