---




---




---


---
SPECIAL SUPPLEMENTS
Special supplements of the Yale Bulletin & Calendar, including 'Building Strength in Biomedicine' and 'Yale & New Haven: A Progress Report,' are now available on-line.
---



Yale has received a leadership donation to endow three varsity athletic team coaching positions.
READ STORY






Fourteen individuals from the Yale and New Haven communities who have worked to strengthen the partnership between "town and gown" were honored at the 24th annual Seton Elm and Ivy Awards luncheon on April 30 in Woolsey Hall.
READ STORY



Westerfield and Gaddis awarded DeVane Medals by Phi Beta Kappa
Graduate students to honor mentors Adorno, Loewenberg and Scholl



The Reverend Canon Joseph Harp Britton has been named dean of the Berkeley Divinity School at Yale and associate dean of Yale Divinity School, according to an announcement by the Board of Trustees of Berkeley Divinity School at Yale in conjunction with Yale Divinity Dean Harold W. Attridge.
READ STORY
---
O T H E R

S T O R I E S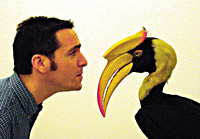 David Heiser, events coordinator at the Peabody Museum of Natural History, stares down a Great Hornbill (Buceros bicornis) in preparation for the museum's Biodiversity Day celebration on Saturday, May 10, which will offer a variety of events focusing on our feathered friends.
READ STORY


The Yale Cellos will perform under the direction of Aldo Parisot in a concert on Wednesday, May 21, at 8 p.m. in Battell Chapel. The concert will feature the American premiere of Christopher Rouse's "Rapturedux" as well as works by Bach, Handel, Popper, Villa-Lobos and other composers.
READ STORY