---



---


---
---
SPECIAL SUPPLEMENTS
Special supplements of the Yale Bulletin & Calendar, including 'Standing, Special and Appointments Committees' and 'University Information' are now available on-line.
---
Yale boasts five Rhodes Scholars


Four Yale College seniors and one student in the Yale Graduate School are among the 32 Americans who will study at Oxford University next year as Rhodes Scholars.
READ STORY


Special events mark reopening
of Kahn Building


To celebrate the reopening of its landmark Louis Kahn Building on Sunday, Dec. 10, after a three-year renovation, the Yale University Art Gallery will open its doors to the public for a Kahn-themed exhibit and a series of free events and special programs.
READ STORY


Fellow scientists honor four Yale researchers as AAAS Fellows


Four Yale faculty members have been awarded the distinction of AAAS Fellow, an honor bestowed upon members of the American Association for the Advancement of Science (AAAS) by their peers.
READ STORY


Climbing Iranian peak was
'exercise in citizen diploma


During a climb in October when he was just 300 feet from the summit of Iran's 18,602-foot Mt. Damavand -- the highest peak in the Middle East -- Lew Nescott Jr. found himself in a precarious position.
READ STORY


"Arts at Yale"


This issue includes a special supplement looking at the changes underway in the "Arts at Yale."
READ STORY
---
O T H E R

S T O R I E S
Amy Meyers is reappointed as museum's director

Expanded program helps physicians meet Continuing Medical Education requirements

Yale cell biologist is honored for his research with Wilson Medal

Yale Rep's 'Black Snow' takes satirical look at life in the theater

Noted author and peace activist Elie Wiesel to give Chubb Lecture

Drama school's 'Zero Hour' recounts student's experience of Bosnian war

Annual educational concert to benefit needy in New Haven

Exhibit chronicles gay, lesbian, bisexual and transgender history
---
Bulletin Home

|

Visiting on Campus

|

Calendar of Events


In the News

|

Bulletin Board

|

Classifieds

|

E-Mail Us


Deadlines

|

Search Archives

|

Bulletin Staff


Office of Public Affairs

|

News Releases

|

Yale University

---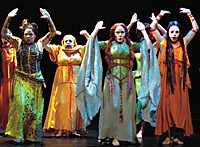 This issue includes a special supplement looking at the changes underway in the "Arts at Yale."
READ STORY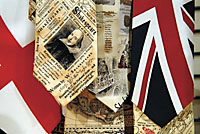 Yale's museum stores offer myriad gift ideas for the holidays. Pictured are ties from the shop at the Yale Center for British Art, 1080 Chapel St.
READ STORY