---





---




---


---
SPECIAL SUPPLEMENTS
Special supplements of the Yale Bulletin & Calendar, including 'Standing, Special and Appointments Committees' and 'University Information' are now available on-line.
---
Study reveals more effective approach to curbing HIV spread



While the Centers for Disease Control and Prevention (CDC) is advocating increased HIV testing as a way to control the spread of the disease, that may not be the best approach when it comes to injection drug users, according to an article by researchers at the Yale School of Medicine, which was published in the January issue of American Journal of Public Health.
READ STORY


DeVane Lectures to ask: Are sustainability and capitalism compatible?



The question of whether modern capitalism can sustain the environment -- and, conversely, whether the environment can sustain modern capitalism -- will be explored in this year's DeVane Lectures, which will be delivered during the spring semester by J. Gustave Speth, dean of the School of Forestry & Environmental Studies (F&ES) and professor in the practice of sustainable development.
READ STORY


Family fun, talks, music and more to highlight celebration of legacy of Martin Luther King Jr.



"Building Healthy Communities" is the overarching theme of a series of programs at Yale celebrating the legacy of Martin Luther King Jr. (MLK).
READ STORY


Former deputy secretary of U.N.
to be visiting fellow this spring



Mark Malloch Brown, former deputy secretary-general of the United Nations (U.N.), will join the Yale Center for the Study of Globalization this spring as a Distinguished Visiting Fellow.
READ STORY
---
O T H E R

S T O R I E S
ENDOWED PROFESSORSHIPS


Streamlined office and new initiatives aim to enhance postdoctoral experience

Global Village Shelters to be on exhibit at the Divinity School

Play shows 'humanity behind the statistics' of AIDS epidemic

Beinecke Library exhibit explores impact of world fairs


SCHOOL OF MEDICINE NEWS


'Marat/Sade' offers audiences 'a full-scale theatrical assault on the senses'

Rudd Center awards Golden Apples for innovative ideas to battle obesity

New exhibit at Jonathan Edwards College features portraits, drawings and paintings by British artist

Memorial in honor of Ellen Hudson Graham

Conductor to present series on 'Reflections on Bach'

Yale trustee's Vietnam memorial wins award
---

Bulletin Home

|

Visiting on Campus

|

Calendar of Events



In the News

|

Bulletin Board

|

Classifieds

|

E-Mail Us



Deadlines

|

Search Archives

|

Bulletin Staff



Office of Public Affairs

|

News Releases

|

Yale University

---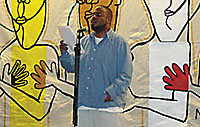 The Peabody Invitational Poetry Slam will be one of the highlights of the museum's annual program honoring Martin Luther King Jr.'s work for environmental and social justice.
READ STORY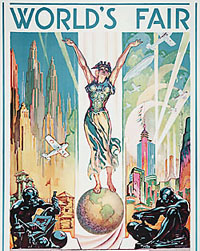 This publicity poster for the 1933 World's Fair in Chicago is among the items on view in the exhibit "World's Fairs and the Landscapes of the Modern Metropolis."
READ STORY