---





---




---


---
SPECIAL SUPPLEMENTS
Special supplements of the Yale Bulletin & Calendar, including 'Standing, Special and Appointments Committees' and 'University Information' are now available on-line.
---
University will hold its 306th Commencement May 28



Yale will mark the transformation of students into alumni during its 306th Commencement weekend, to be held Saturday-Monday, May 26-28.
READ STORY


'Oprah Show' hails first grandmother to earn Yale M.D.



A 44-year-old mother of five and grandmother who once thought admissions officers would simply laugh at her application to the Yale School of Medicine was celebrated recently for her perseverance on "The Oprah Winfrey Show."
READ STORY


Global health expert to head Yale's World Fellows Program



President Richard C. Levin has named Dr. Michael Cappello of the School of Medicine as director of the Yale World Fellows Program.
READ STORY


Trachtenberg reflects on
her 20 years as 'Betty T.'



When Betty Trachtenberg, dean of student affairs and associate dean of Yale College, announced in the fall that she would retire at the end of this academic year after two decades in her post, messages began flooding her e-mail inbox.
READ STORY


Inside the Forbidden City



A delegation of 100 Yale students, faculty and administrators, led by President Richard C. Levin, traveled to China May 15-25 at the invitation of the nation's leader, President Hu Jintao.
READ STORY


Summertime at Yale



The 'Summertime at Yale' supplement looks at what will be hot when the weather heats up.
READ STORY
---
O T H E R

S T O R I E S
University to host international symposium on music education, honor noted music teachers

Law School to train legal journalists, media lawyers

Campus celebrates its first African-American graduate


ENDOWED PROFESSORSHIPS


University names its first director of sustainable transportation systems

Graduate School students applaud faculty mentors

Eight faculty members elected to the AAAS

Three Yale scholars are new members of the APS

Peter Reinhardt named director of Yale's Office of Environmental Health and Safety

Kim Bottomly named president of Wellesley College

First-Year Building Program's 40th anniversary

Festival highlights 'revolutionary' artists and thinkers

Peabody Museum exhibit to showcase award-winning wildlife photography

Study finds dynamin 1 gene is critical for sophisticated brain function

Researchers examine why children (and some adults) are resistant to scientific explanations

Three student scientists win Goldwater Scholarships

Archer named one of Glamour's 'Top 10 College Women'

Council of Masters presents awards to 10 juniors for their contributions

Ten Yale-China Teaching Fellows to begin appointments this summer

Top judges reach 'verdict' in law students' moot court trial

Dr. Lockwood's latest honors include 'Pulitzer Prize of the business press'

Campus Notes

---

Bulletin Home

|

Visiting on Campus

|

Calendar of Events



In the News

|

Bulletin Board

|

Classifieds

|

E-Mail Us



Deadlines

|

Search Archives

|

Bulletin Staff



Office of Public Affairs

|

News Releases

|

Yale University

---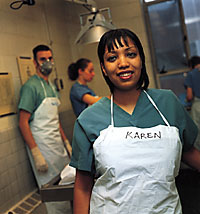 Karen Morris will soon become the first grandmother ever to graduate from the School of Medicine.
READ STORY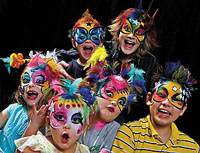 The "Summertime at Yale" supplement looks at what will be hot when the weather heats up.
READ STORY