---





---



---


---
SPECIAL SUPPLEMENTS
Special supplements of the Yale Bulletin & Calendar, including 'Standing, Special and Appointments Committees' and 'University Information' are now available on-line.
---
Medical School receives
major research grants


$57.3 million to speed laboratory-to-bedside treatments
$11.5 million to improve cancer diagnosis and therapies

Museum technicians to show their own artworks at Open Studios



It has become a Yale Bulletin & Calendar tradition to showcase the artistic talents of some of the staff members or students who are participating in the annual City-Wide Open Studios (CWOS), a month-long celebration of the arts presented by Artspace.
READ STORY


Student designs creative alternative to traditional construction fencing



Yale student Alexander Newman-Wise would like to spark a revolution in the field of architecture that has nothing to do with buildings, but rather with what surrounds them while they're being built.
READ STORY
---
O T H E R

S T O R I E S
MORE SCHOOL OF MEDICINE NEWS


Levin, Zedillo discuss the role of UNESCO at Paris event

'Women and Globalization' will be the topic of discussion by female World Fellows at Yale

Marketing executives and scholars to discuss latest trends

Australia's history and people are focus of film

Exhibit features paintings of England by Venetian artist 'Canaletto'

Lecture will examine the U.N. and 21st-century challenges

Play reading and talk will explore the romantic life of Benjamin Franklin

Tanner Lectures and related discussion to focus on humanities

'Crafting a Life' is the theme of this year's Law School reunions

Student research on early French songs culminates in medieval music concert

ALL gallery after-party celebrates artists in its newest exhibit and in CWOS
---

Bulletin Home

|

Visiting on Campus

|

Calendar of Events



In the News

|

Bulletin Board

|

Classifieds

|

E-Mail Us



Deadlines

|

Search Archives

|

Bulletin Staff



Office of Public Affairs

|

News Releases

|

Yale University

---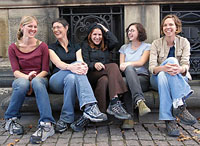 Among the Yale-affiliated artists featured in City-Wide Open Studies are (from left) Jessica Smolinski, Margot Curran, Rachel Hellerich, Alicia Van Campen and Anna Daegele, all museum technicians at the Yale Art Gallery.
READ STORY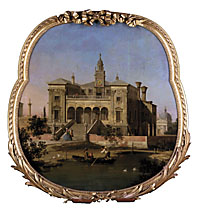 "Capriccio of a Renaissance Palace" is one of the works by Giovanni Antonio Canal (called Canaletto) on view in the new exhibition at the Yale Center for British Art.
READ STORY
---
The Yale University Policy Statement on Student Records (Buckley Amendment) is now available online.
---