When Yale professor Ann Williams and her colleagues first started conducting workshops in Changsha, China, in 1996 as part of a Yale-China Association initiative to educate Chinese nurses about HIV/AIDS, the nurses there never expected that they would have to care for a patient with the illness.
To them, AIDS was a "foreigner's disease," not one that would be contracted by those living in their own country, says Williams, the Helen Porter Jayne & Martha Prosser Jayne Professor at the School of Nursing.
But three years after the Yale-China Association began its HIV/AIDS education program in partnership with Hunan Medical University, an unexpected AIDS patient was identified in Changsha, the capital of Hunan province.
Staff at the local hospital panicked about having to treat their new AIDS patient, and while the Yale-trained nurses there eagerly volunteered to care for him, the hospital decided instead to transfer him to a larger hospital in another city. Deeply distraught by the stigma of his disease, he eventually took his life without receiving medical treatment or counseling.
Williams and others affiliated with the Yale training program have often recounted this story about one of Changsha's first AIDS patients to illustrate both the stigma of the disease in China as well as the bravery and preparedness of the Yale-trained Chinese nurses.
"Cases such as this highlight how important it is for China's health care force to be prepared for the coming epidemic," Williams says, noting that China has been slow in acknowledging HIV/AIDS as a critical public health concern. The Chinese government, however, reports that actual HIV cases in the country may exceed 1 million today. UNAIDS, a United Nations' group that monitors cases of HIV/AIDS internationally, projects that the number could rise to 10 million by the year 2010 if effective education, prevention and treatment strategies are not launched.
The Yale-China Association began its HIV/AIDS education program in China six years ago in response to the rapidly rising rates of HIV infection in the country. The program presents week-long workshops for the Chinese nurses that focus on HIV/AIDS prevention and care. Williams, a nurse practitioner and researcher who has worked internationally with AIDS patients, leads the workshops with her former Yale colleague Jane Burgess, who is now the National Clinical Coordinator for the HIV/HCV (Hepatitis C Virus) for the U.S. Department of Veterans' Affairs. The two women and others from the Yale-China Association developed a culturally sensitive curriculum for the program, which has been offered for the past six years in Hunan province.
With a recent $100,000 grant from the World AIDS Foundation, the program is now being extended to Beijing and four provinces that have rising rates of HIV infection -- Yunnan, Guangdong, Xinjiang and Henan -- making it a national endeavor in China.
"The goal of our program, quite simply, is to work with fellow nurses and to share with them the experience of the rest of the world over the last two decades in responding to this global epidemic," says Williams, who is also a trustee of the Yale-China Association and a nurse practitioner in the Yale AIDS Care Program. "We want to help them take better care of patients and protect themselves."
The program is based on a "train-the-trainer" model, in which about 50 Chinese nurses participate in each of the educational workshops, which will be offered during the next phase of the program through the end of 2003. Selected by the National Nursing Center of China for their educational roles and leadership skills, these participants, in turn, pass on what they have learned about HIV/AIDS prevention and care to their fellow nurses.
Through this method, the program will reach as many as 25,000 nurses across China.
The workshops -- which are conducted in Mandarin Chinese -- consist of lectures, role-playing and discussion, covering such topics as HIV transmission; occupational safety for nurses handling syringes and human blood; the proper procedures for the disposal of medical equipment; risk reduction; and the care of patients with AIDS, including counseling and crisis-intervention concepts; as well as approaches to dealing with loss and grief when caring for dying patients. Workshop participants are also encouraged to discuss their own thoughts and feelings about working with patients with HIV or AIDS.
According to Williams, one of the biggest hurdles for the Yale nurse trainers is to help the Chinese nurses feel comfortable talking about subjects that are traditionally considered taboo, particularly for Chinese women -- especially topics related to bodily functions and sexual behaviors.
"Talking to patients with HIV or AIDS requires the nurses to use words that they don't normally use, and so we focus some of our workshops on helping them to become more comfortable discussing those uncomfortable topics," says Williams.
The Yale training also helps to counter some of the "assumptions and extraordinary stigmatization of those with HIV/AIDS in China," Williams says. As part of their training, for example, workshop participants view a "powerfully straightforward" videotape of a Yale staff member living with AIDS, and many are surprised to see that she enjoys a full life despite her serious illness, according to Williams.
"For the nurses who are unaccustomed to seeing AIDS patients, the videotape puts a human face on the disease," she explains. "Many of the workshop participants write to tell her how much they admire her bravery."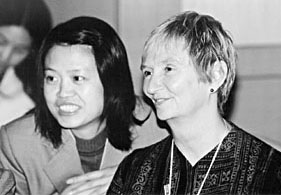 Honghong Wang (left), a nurse in Changsha,
and Ann Williams. Both are part of the team
which trained nurses about AIDS in Kunming.

Williams and others who coordinate the Yale-China program are careful not to intrude on the methods of Chinese hospital staff or on the Chinese health care system itself.
"We want to contribute to the development of a unique Chinese response," the Yale nurse explains. "We want to give the nurses support and help them attain the skills they need, but it is then up to Chinese health professionals to create the system to deal with the problem of HIV/AIDS."
For example, prior to the program, bloody needles and syringes were discarded in open wicker baskets which were transported through the streets to a central disposal facility. The sharp needles protruded through the sides of the baskets, putting both health care professionals and custodial staff at risk. After the program, at one hospital in Changsha the nurses decided to line the baskets with rigid plastic buckets, greatly reducing the risk of accidental needle sticks. "This was their unique solution, using general principles acquired in the workshops," Williams says.
Nancy Chapman, executive director of the Yale-China Association, says there has also been a major change in attitude as a result of the program, as many health professionals have come to recognize AIDS as a serious public health issue.
"The expansion of Yale-China's HIV/AIDS program to key areas of infection in China could not be more timely," she says. "Today, Chinese health care workers across the country recognize the need for training to respond to the staggering consequences of the epidemic, and Chinese officials and citizens alike have become aware of the need for public education. Yale-China's century of experience in China and the experience of Ann Williams with international HIV/AIDS training programs puts us in a perfect position to respond to these needs. Our culture-specific training model effectively gives the front line of defense -- China's nurses -- the training and confidence to safely treat patients with AIDS while also educating patients, their families and at-risk individuals about prevention."
Chapman notes that the Yale-China Association has long been engaged in health issues in China (see related story, below), and the Chinese nurses have welcomed their Yale training.
During the first of five AIDS workshops to be taught in various Chinese cities this year, Chapman, Williams and other faculty members worked with nurses in Kunming, a major city in the southwester part of the country and one of the current centers of China's AIDS epidemic. At the end of her first day in Kunming on Jan. 2, Chapman recorded some of her impressions.
"I have been finding that nurses here have no training whatsoever for working with HIV/AIDS patients," she wrote. They have come to the workshop from all over the province, where they have been faced with AIDS patients every day in their local hospitals. The Yale faculty trip from the United States was in fact shorter than that of some of these nurses, who traveled across winding mountain roads, through wind and snow, to reach the workshop. Although we had planned for only 50 participants, we've taken on more than 70. We just can't turn them away after they have traveled so far."
With such proven interest on the part of the Chinese nurses and the proper support, China can forestall a tragic HIV/AIDS epidemic, Chapman and Williams believe.
"The risk of a major epidemic there is quite real," says Williams. "But China has more resources than many equally threatened countries in the world and, as more and more skilled nurses and other health professionals share what they've learned about HIV/AIDS, the country has ac-quired the skills to contain this epidemic with compassion and a best-practices approach. All it needs is the political will to do so. No country has done it well without a strong governmental component.
"China is changing rapidly," she adds. "It has a lot of possibility, and it can move quickly when ready to move. Our hope is that it will meet this challenge."
-- By Susan Gonzalez
---
Yale's health care initiatives in China have a long history
The HIV/AIDS training program for Chinese nurses is one of several health initiatives supported by the Yale-China Association.
In fact, since its founding in 1901, the association has made the health of Chinese citizens one focus of its various programs in the country.
The association helped introduce Western medicine to China at the beginning of the 20th century by establishing a teaching hospital in Changsha that bears the University's name, Hsiang-Ya (Hunan-Yale) Hospital. The Hsiang-Ya Medical College and Nursing School were founded a few years later.
In addition to its HIV/AIDS education and prevention work, Yale-China supports fellowships for women working in the health professions. Called the Chia Family Health Fellowships, these provide the opportunity for Chinese women to study at Yale for a semester and design a public health project under the guidance of a Yale faculty member before returning to China to continue their research and implement educational outreach components of their projects. The program is now in its sixth year.
The Yale-China Association also publishes the Yale-China Health Journal, an annual online publication highlighting recent research related to health care and health education in China.
---
T H I S

W E E K ' S

S T O R I E S


Yale Community Unites in Grief For Victims of Tragic Accident




IN MEMORIAM




Talks, performances to mark Black History Month




Yale experts offer insights on ethical globalization




Senior to study 'directed evolution' at Cambridge as Churchill Scholar




IN FOCUS: Yale-China AIDS Education Program




Ecology & Evolutionary Biology faculty honored


News executive to discuss impact of 'One Hand Zapping'




Art gallery's history is showcased in new exhibit




Library exhibit highlights the peace movement




MEDICAL SCHOOL NEWS


English department to present staged reading of Byron drama




Dr. Stephen Fleck, noted for research on schizophrenia, dies




Conference to focus on the people and politics of the Balkan region




'Public service in Hong Kong' to be highlighted in symposium




Jonathan Spence elected president of American Historical Association




Upcoming CPTV program on the slave trade filmed during Yale event




Salute to King




Yale Books in Brief




Campus Notes


---
Bulletin Home

|

Visiting on Campus

|

Calendar of Events

|

In the News



Bulletin Board

|

Yale Scoreboard

|

Classified Ads

|

Search Archives

|

Deadlines



Bulletin Staff

|

Public Affairs Home

|

News Releases

|

E-Mail Us

|

Yale Home Page

---