---




---




---


---
SPECIAL SUPPLEMENTS
Special supplements of the Yale Bulletin & Calendar, including 'University Information' and 'Yale & New Haven: A Progress Report,' are now available on-line.
---



Yale's commitment to spur economic development within New Haven and strengthen its partnership with its host city recently drew the attention of the incoming president of Case Western Reserve University, who invited President Richard Levin to speak at a colloquium titled "Great Universities and Their Cities," held Jan. 30 at the school in Cleveland, Ohio.
READ STORY






The Graduate School of Arts and Sciences has increased the standard stipend for students enrolled in doctoral programs in the humanities and social sciences by $1,000, beginning next fall, according to an announcement by Dean Peter Salovey.
READ STORY


Once she became an actress, Meryl Streep never had any intention of working as anything but that, she told an audience of students at a Berkeley College master's tea on Jan. 31.
READ STORY



The Yale Center for Genomics and Proteomics, which was established last year with an investment of over $200 million from the University, has announced its first round of pilot grants to members of the faculty.
READ STORY



Yale College junior Kristin Kovner will never forget the time an elderly man with Alzheimer's disease who was generally unresponsive immediately brightened up when she started singing "As Time Goes By," the 1930s classic that became the trademark tune of the film "Casablanca."
READ STORY
---
O T H E R
S T O R I E S
ENDOWED PROFESSORSHIPS
During her talk with students at a Berkeley College master's tea, alumna Meryl Streep praised the residential college's recent move to serve mostly organically grown crops.
READ STORY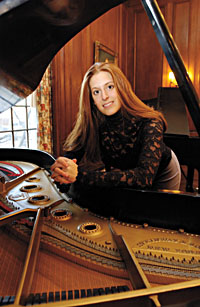 Yale College junior Kristin Kovner's new CD of American classics will benefit a day program for those with Alzheimer's disease.
READ STORY