---




---



---


---
SPECIAL SUPPLEMENTS
Special supplements of the Yale Bulletin & Calendar, including 'University Information' and 'Yale & New Haven: A Progress Report,' are now available on-line.
---



Ming Cho Lee, the Donald M. Oenslager Professor (Adjunct) of Design and co-chair of the Design Department at the School of Drama, received a National Medal of Arts from President George W. Bush at a ceremony held March 9 in the White House.
READ STORY






A Yale faculty member who studies the complicated cognitive reasons why people often think they know more than they do has received a $1.3 million multi-year merit award from the National Institutes of Health (NIH).
READ STORY



Beginning next fall, only "Fair Trade"-certified coffee will be served in Yale's dining halls.
READ STORY
---
O T H E R

S T O R I E S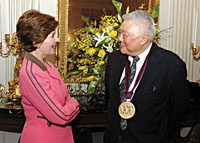 First Lady Laura Bush chats with Ming Cho Lee at the March 9 White House ceremony where the Yale designer was awarded a National Medal of Arts.
READ STORY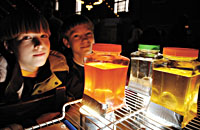 Cas Losom and Mark Lisak of Edgewood Magnet School in New Haven created a project designed to test the effect of temperature on lava lamps for the citywide science fair held March 11 in Yale Commons.
READ STORY