---



---


---

---
SPECIAL SUPPLEMENTS
Special supplements of the Yale Bulletin & Calendar, including 'University Information' and 'Yale & New Haven: A Progress Report,' are now available on-line.
---


Yale University has been recognized as having one of the nation's most outstanding initiatives in campus internationalization by NAFSA: Association of International Educators.
READ STORY





A study by Yale researchers provides preliminary evidence that there may be more than twice as many genes in the human genome than previously predicted.
READ STORY

The greatest assets in developing countries may be the ones nobody is counting, said Hernando de Soto, adviser to former Peruvian president Alberto Fujimori, in an April 16 talk at the Law School.
READ STORY


President Richard C. Levin explores the challenges and responsibilities facing today's universities in a new book published on April 24 by Yale University Press.
READ STORY
---
O T H E R

S T O R I E S
UNIVERSITY TEACH-INS ON THE WAR WITH IRAQ:
The U.N. will continue its global role, predict panelists

Study shows Icon molecule may offer key to preventing macular degeneration

Unique argument pays off for winning Law School students

Alumni to focus on Yale Engineering

Works by 'Cha-tic' offer detailed view of Native American life

Play explores transformations brought about by 'Changes of Heart'

Kumpati Narendra lauded for his work in engineering

Guggenheim Fellowships are awarded to five faculty members

Research shows antipsychotic drug risperidone may reduce severity of Tourette's symptoms

F&ES events look at the role of fire in forest management

Research reveals dramatic rise in number of doctors pursuing degrees in both business and medicine

Juniors honored for 'good labor in the world' and musical gifts

Richard Sewall dies, was first master of Ezra Stiles College

Pioneering immunobiologist Dr. Charles Janeway Jr. dies

New award will honor creativity of School of Nursing students

Concert to help raise funds for year-round, overflow homeless shelter
---
Bulletin Home

|

Visiting on Campus

|

Calendar of Events


In the News

|

Bulletin Board

|

Classified Ads

|

Search Archives


Deadlines

|

Bulletin Staff

|

Public Affairs Home

|

News Releases


E-Mail Us

|

Yale Home Page

---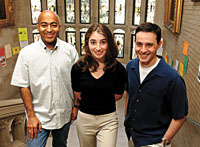 Travis LeBlanc, Kimberly Zelnick and Jonathan Kravis argued their way to the top, winning the American Bar Association's National Appellate Advocacy Competition.
READ STORY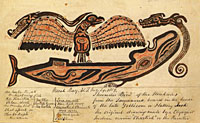 James Swan documented a drawing by a Native American artist in this work, "Thunder Bird of the Makahs from the Tamanous board in the house of the late Yellicom or Flattery Jack," dated Nov. 29, 1859.
READ STORY