---




---



---


---
SPECIAL SUPPLEMENTS
Special supplements of the Yale Bulletin & Calendar, including 'Building Strength in Biomedicine' and 'Summertime at Yale,' are now available on-line.
---


Although there wasn't a hint of sun during the Commencement ceremonies held May 26 on Old Campus, there were beams on the faces of many rain-drenched graduates and their proud families and friends.
READ STORY






Yale's ties to one of the most important nations in East Asia were expanded and strengthened during a visit to South Korea by President Richard C. Levin last month.
READ STORY



Dr. Jeffrey P. Koplan, former head of the Centers for Disease Control and Prevention (CDC) who is currently an administrator at Emory University, was elected as an alumni fellow of the Yale Corporation in a worldwide ballot of Yale graduates.
READ STORY



Linda Spoonster Schwartz, a research scientist at the Yale School of Nursing (YSN) working on the "Vietnam Nurses Health Study," has been appointed the next commissioner of the Connecticut Department of Veterans' Affairs.
READ STORY



Trailblazing artists from around the world and discussions of topics both local and global will highlight the eighth annual International Festival of Arts & Ideas.
READ STORY



World-renowned researcher Dr. Richard L. Edelson has been named the new director of the Yale Cancer Center, according to a joint announcement by Dr. David A. Kessler, dean of the School of Medicine, and Joseph A. Zaccagnino, president of Yale-New Haven Hospital.
READ STORY
---
O T H E R

S T O R I E S
ENDOWED PROFESSORSHIPS


Alumnus donates first novel by an African-American slave

Reunion events to explore world's public health crises

British Art Center acquisitions honor its founding 25 years ago

'Behold, the Sea Itself' showcases center's collection of marine art

Graduate/Professional International Study Grants

YCIAS offers Summer Institutes for educators
---

Bulletin Home

|

Visiting on Campus

|

Calendar of Events



In the News

|

Bulletin Board

|

Classified Ads

|

Search Archives



Deadlines

|

Bulletin Staff

|

Public Affairs Home

|


News Releases



E-Mail Us

|

Yale Home Page

---
A canopy of umbrellas covered Old Campus during the Commencement ceremony on May 26.
READ STORY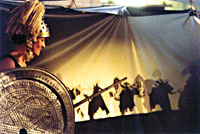 A mini-opera titled "The Threepenny Ring" will be performed by the French troupe Les Grooms on June 26 and 27 in Yale's New Theater.
READ STORY