---





---




---


---
SPECIAL SUPPLEMENTS
Special supplements of the Yale Bulletin & Calendar, including 'Building Strength in Biomedicine' and 'Summertime at Yale,' are now available on-line.
---



F. Herbert Bormann, the Oastler Professor Emeritus of Forest Ecology, will receive the international environmental Blue Planet Prize from the Japanese Asahi Glass Foundation on Oct. 22 in Tokyo.
READ STORY






President Richard C. Levin has named Dr. Dennis D. Spencer, the Harvey and Kate Cushing Professor of Neurosurgery and chair of neurosurgery, as acting dean of the School of Medicine.
READ STORY



High school students sample university life
City youths learn the fine art of playwriting
---
O T H E R

S T O R I E S
Changes in cloud elevation may affect Northeastern forests, study suggests

Students' winning house design parts with tradition

Summer music flourished under pianist's direction


MEDICAL SCHOOL NEWS


Yale artist's painting wins award from National Academy of Art

Two faculty members elected into renowned society

Yale Glee Club has named its newest director


ASTRONOMICAL DISCOVERIES


Law professor Burke Marshall dies; played leading role in enactment of Civil Rights Act

Thomas Greene, renowned literary scholar, dies at age 77

Leonard Kaplow dies; renowned pathologist

Symposium honors Shulman's work with NMR
---

Bulletin Home

|

Visiting on Campus

|

Calendar of Events



In the News

|

Bulletin Board

|

Classified Ads

|

Search Archives



Deadlines

|

Bulletin Staff

|

Public Affairs Home

|


News Releases



E-Mail Us

|

Yale Home Page

---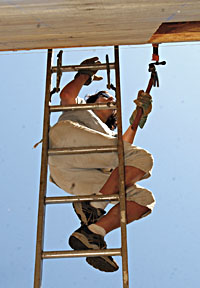 First-year students from the School of Architecture are busily building a home that they designed in the city's West River neighborhood.
READ STORY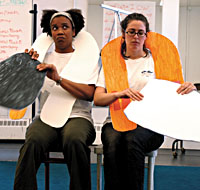 Yale drama students Tijuana Ricks and Jami O'Brien rehearse a scene from one of the plays written by city youths participating in the Dwight/Edgewood Project.
READ STORY