---



---



---


---
SPECIAL SUPPLEMENTS
Special supplements of the Yale Bulletin & Calendar, including 'University Information' and 'Yale & New Haven: A Progress Report,' are now available on-line.
---



President Richard C. Levin and Provost Alison Richard have announced the establishment of a $1 million "Yale Green Fund," to be spent over the next three years, to support environmental initiatives on campus.
READ STORY

Yale's Environmental Principles



A wealth of accurate, up-to-date health care information is now readily available at no cost to the public through a partnership between Yale's Cushing Whitney Medical Library and the New Haven Free Public Library.
READ STORY



Just in time for Halloween comes the publication of "Frankenstein: Penetrating the Secrets of Nature" by Susan E. Lederer, associate professor of the history of medicine and assistant professor of history.
READ STORY
---
O T H E R

S T O R I E S
ENDOWED PROFESSORSHIPS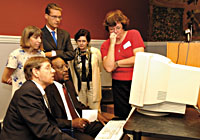 Among those at the launch of the Consumer Health Information Network was Medical School Dean Dr. David Kessler, seated at left.
READ STORY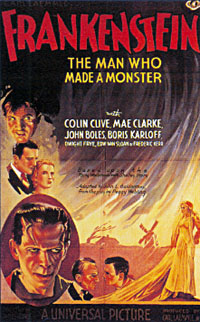 A traveling exhibit by Yale scholar Susan Lederer shows how Hollywood turned Shelley's sympathetic creature into a despised monster.
READ STORY