---


---



---


---
SPECIAL SUPPLEMENTS
Special supplements of the Yale Bulletin & Calendar, including 'Standing, Special and Appointments Committees' and 'University Information' are now available on-line.
---
Yale scientist has received Javits Award for study of cerebral cortex



David McCormick, professor of neurobiology at the School of Medicine, has received the Senator Jacob Javits Award in the Neurosciences for his proposal to study the basic operational mechanisms of the cerebral cortex.
READ STORY


Yale dean's dramatic successes documented in newly acquired archive



The Beinecke Rare Book and Manuscript Library has acquired the papers of Tony Award-winning theater director Lloyd Richards, a former dean of the Yale School of Drama whose work is credited with transforming the role of African Americans in the theater.
READ STORY


Sought: Bulldog with the right
stuff to be Handsome Dan XVI



If your bulldog adores the spotlight and is partial to the color blue, he or she might have the makings of the next Handsome Dan.
READ STORY
---
O T H E R

S T O R I E S
Commission on U.S. intelligence reports to President Bush; Richard Levin among members


ENDOWED PROFESSORSHIPS


Music, dance and poetry highlight Peabody's third '¡Fiesta Latina!'

Yale Opera presents Janácek tale of love and yearning

'Celebrating South Asia' features multidisciplinary scholarship

Despite political divide, U.S. not in culture war, columnist says

Research reveals role of microRNA in development of lung cancer

Key regulator of bone cells is linked to osteoporosis

Study: Preeclampsia in pregnancy increases risks of cardiovascular disease later in life

Noted Japanese filmmaker Aoyama Shinji to screen, discuss works

Workshop offers information about grants for bioscience ventures

Symposium shows how researchers are using the Underground Railroad to trace family histories

Yale Books in Brief
---

Bulletin Home

|

Visiting on Campus

|

Calendar of Events



In the News

|

Bulletin Board

|

Classifieds

|

E-Mail Us



Deadlines

|

Search Archives

|

Bulletin Staff



Office of Public Affairs

|

News Releases

|

Yale University

---
The next issue of the Yale Bulletin & Calendar will be published on Friday, April 15.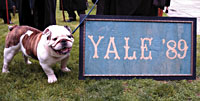 Handsome Dan XV (a.k.a. Louis) poses beside a banner from the Class of 1889.
READ STORY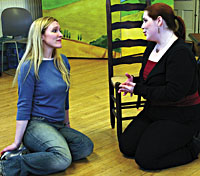 Rehearsing for their roles in Leos Janácek's "Kát'a Kabanová" are Sara Jakubiak (left) as Varvara and Jennifer Black in the title role.
READ STORY