---




---


---


---
SPECIAL SUPPLEMENTS
Special supplements of the Yale Bulletin & Calendar, including 'Standing, Special and Appointments Committees' and 'University Information' are now available on-line.
---
Yale opens new International Center



This month Yale officially launches its International Center for Students and Scholars, designed to serve the thousands of individuals who live, study and teach at the University.
READ STORY

Community invited to center's Open House


New program to offer
joint M.B.A./Ph.D.



Yale's Graduate School of Arts and Sciences and School of Management (SOM) have announced a new offering, one of the first programs of its kind: a joint M.B.A./Ph.D. degree.
READ STORY

Peabody will create science
curriculum with NIH grant



The National Institutes of Health (NIH) has presented Yale's Peabody Museum of Natural History with a Science Education Partnership Award (SEPA) to create a program that will immerse students in science, increase science literacy and encourage research careers.
READ STORY


'Al Franken Show' to be
broadcast from Woolsey Hall



Author and comedian Al Franken will broadcast his national radio program from the Yale campus noon-3 p.m. on Monday, Nov. 14.
READ STORY
---
O T H E R

S T O R I E S
Famed singer tells of his determination to voice his views

Economist says climate change hits the poor hardest

Parasite that causes Sleeping Sickness yields new information about how an organ of the cell duplicates

'Safe in Hell' takes devilish look at Salem witch trials

Innovative architectural visions showcased in 'Transcending Type'

Renovated community Eye Clinic celebrates with an open house

Departments, donors to win prizes at United Way celebration

Additions to Yale Cancer Center will boost clinical care

Coast-to-coast run will raise funds for center for cancer survivors

Panel to discuss 'The Media and Corporate Corruption'

Lecture will pay homage to Albert Einstein

Auction to help alleviate hunger, homelessness

Library hosts shows on printing process and preservation

Women's healthcare challenges to be topic of forum

Concert will pay tribute to the memory of Divinity School alumnus

Week celebrates importance of international education

F&ES faculty member honored for research on rivers

Researcher Mark Johnson wins Plyler Prize for his work on the structure of water

'A Colony of Citizens' wins Douglass Prize for work on slavery
---

Bulletin Home

|

Visiting on Campus

|

Calendar of Events



In the News

|

Bulletin Board

|

Classifieds

|

E-Mail Us



Deadlines

|

Search Archives

|

Bulletin Staff



Office of Public Affairs

|

News Releases

|

Yale University

---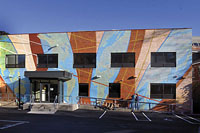 The façade of the new International Center for Students and Scholars will feature a mural of the world (shown here while still in progress).
READ STORY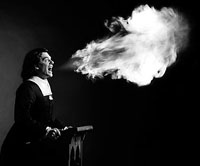 The fire-and-brimstone preaching style of the real Cotton Mather is captured in this image from the poster for "Safe in Hell," Amy Freed's comedy about the Salem witch trials, which is the next offering at the Yale Repertory Theatre.
READ STORY