---



---



---
---
SPECIAL SUPPLEMENTS
Special supplements of the Yale Bulletin & Calendar, including 'Standing, Special and Appointments Committees' and 'University Information' are now available on-line.
---
Team finds genes that control aging


Genes that control the timing of organ formation during development also control timing of aging and death, and provide evidence of a biological timing mechanism for aging, Yale researchers report in the journal Science.
READ STORY


Q&A with President Richard C. Levin


It has been more than 12 years since Richard C. Levin was appointed president of Yale, and there have been many changes on campus and in the wider world during that time.
READ STORY


Yale will study ways to promote tolerance via 'Difficult Dialogues' grant


Yale has received a grant of $100,000 from the Ford Foundation for a unique program to develop a more temperate climate on campus for dialogue about such flashpoint issues as race relations, religion and political views.
READ STORY


Four faculty members have been appointed to Sterling Professorships


Four faculty members have received one of Yale's highest honors -- appointment to a Sterling Professorship.


Maria Rosa Menocal

Dr. Thomas D. Pollard

Dieter Söll

John C. Tully
---
O T H E R
S T O R I E S
Recent alumna wins award for her Ph.D. dissertation


MEDICAL SCHOOL NEWS


Mozart's 250th birthday bash begins Jan. 27

Recluse gets swept up in counter-terrorism in Yale Rep's 'The People Next Door'

'Bread Upon the Waters' shows 'generosity' of Christian art

Tragic tale of 'The Duchess of Malfi' to unfold at Drama School

Conference examines the art of biography as practiced by Boswell and Johnson

Two Yale scientists elected to American Physical Society

Spring architecture programs include talks by top designers

Campus Notes
---
Bulletin Home
|
Visiting on Campus
|
Calendar of Events


In the News
|
Bulletin Board
|
Classifieds
|
E-Mail Us


Deadlines
|
Search Archives
|
Bulletin Staff


Office of Public Affairs
|
News Releases
|
Yale University

---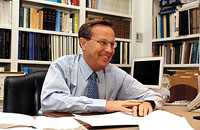 Thanks to new financial aid policies, even students whose families' incomes are in "the lowest quartile" can come to Yale, says Levin.
READ STORY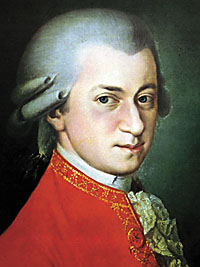 Yale will open a celebration of Wolfgang Amadeus Mozart's 250th birthday with a concert on Jan. 27.
READ STORY