---




---




---


---
SPECIAL SUPPLEMENTS
Special supplements of the Yale Bulletin & Calendar, including 'Standing, Special and Appointments Committees' and 'University Information' are now available on-line.
---
Archaeologist's discovery may be final clue to location of long-lost Maya city



A Yale archaeologist was part of a team of scientists that recently found evidence confirming the location of a long-speculated Maya city known as Site Q.
READ STORY


Materials research center established with $7.5 million NSF grant



The National Science Foundation (NSF) has awarded a six-year, $7.5-million grant to establish a Materials Research Science and Engineering Center (MRSEC) at Yale and Southern Connecticut State University (SCSU), with participation from Brookhaven National Laboratory of Upton, New York.
READ STORY


Annual festival lets local artists showcase their works



"Art," Pablo Picasso once said, "washes away from the soul the dust of everyday life."
READ STORY

Yale community members will share their


unique artistic visions at City-Wide Open Studios
Message from the Leaders of
the Yale United Way Campaign



As the full impact of the tragedy and challenges stemming from Hurricanes Katrina and Rita continue to unfold, many have been struck by what has been revealed about the underlying condition of life for many disadvantaged people in our society and especially in our city.
READ STORY


Welcome, Parents!



A schedule of Parents' Weekend activities
---
O T H E R

S T O R I E S
Matching fund for Katrina relief expanded


IN FOCUS: OFFICE OF SUSTAINABILITY


'Skeptical' neurologist works to separate science from sham

Yale Rep launches its 40th season with 'The Cherry Orchard'


Exhibition simulates viewing conditions intended by artists

Noted graphic designer Dan Friedman is subject of retrospective


MEDICAL SCHOOL NEWS


Divinity School alumni will honor memory of missing classmate at Convocation/Reunion

Audience will be 'postmodern detectives' in School of Drama play

New visions of religious icons featured in ISM show

Exhibit celebrates life of Yale's first Native American alumnus

WFF will honor women leaders from around the globe

Annual festival will include music, talks and shadow puppetry

Study shows stigma of obesity influenced by attitudes of peers

Book doctor

YUWO awards scholarships to 13 Yale affiliates

Yale Books in Brief

Campus Notes
---

Bulletin Home

|

Visiting on Campus

|

Calendar of Events



In the News

|

Bulletin Board

|

Classifieds

|

E-Mail Us



Deadlines

|

Search Archives

|

Bulletin Staff



Office of Public Affairs

|

News Releases

|

Yale University

---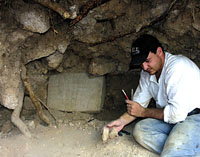 Archaeologist Marcello Canuto uncovered the Site Q panel on the last day of the expedition in Guatemala.
READ STORY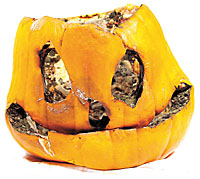 This photograph by Jessica Smolinski, museum technician at the Yale Art Gallery, is among the works by Yale staff and students in this year's City-Wide Open Studios.
READ STORY