---





---




---


---
SPECIAL SUPPLEMENTS
Special supplements of the Yale Bulletin & Calendar, including 'Standing, Special and Appointments Committees' and 'University Information' are now available on-line.
---
Major gift to fund construction of Loria Center for the History of Art



A generous gift from Jeffrey H. Loria '62 B.A., noted collector and 20th-century art dealer, will fund construction of a new building to house Yale's Department of the History of Art.
READ STORY


Scientists determine ancient Peruvian citadel was earliest solar observatory in the Americas



Archaeologists from Yale and the University of Leicester have identified an ancient solar observatory at Chankillo, Peru, as the oldest in the Americas, with alignments covering the entire solar year, according to an article in the March 2 issue of Science.
READ STORY


For students, spring break will
be a time of discovery, service



Both here in New Haven ....



And around the globe ...


SOM travel goes green



In keeping with Yale's goal of becoming the "greenest" university, a group of students at the School of Management (SOM) have found a way to reduce the global warming impact of the air travel by its faculty and students.
READ STORY
---
O T H E R

S T O R I E S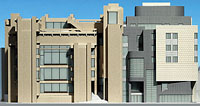 The Jeffrey Loria Center for the History of Art -- as shown in this architect's rendering by Charles Gwathmey -- will be adjacent to the Paul Rudolph Art & Architecture building (left).
READ STORY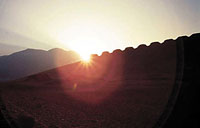 By standing at the western solar observatory, the Inca could track the yearly movements of the sun -- shown here rising between Tower 1 and Cerro Mucho Malo at the June solstice in 2003.
READ STORY