---





---




---


---
SPECIAL SUPPLEMENTS
Special supplements of the Yale Bulletin & Calendar, including 'Standing, Special and Appointments Committees' and 'University Information' are now available on-line.
---
Alumnus makes major gift
to new cancer care facility



Yale-New Haven Hospital (YNHH) and Yale University announced that alumnus Joel E. Smilow (Yale College '54) will make a major gift to support the new 14-story cancer hospital currently under construction on Park Street. The comprehensive patient care facility will be known as the Smilow Cancer Hospital.
READ STORY


New Yale ALERT system to allow instant communications during emergencies



During an emergency, Yale officials will be able to contact members of the campus community within minutes using a new communication system being launched this week.
READ STORY


Microsoft-Yale project will provide worldwide access to University's rare book collections



Readers around the world will soon have online access to thousands of rare books in the Yale Library thanks to an agreement between the University and Microsoft Corporation to digitize many volumes found only in the Yale collections.
READ STORY


NIH honors chemist for innovative
work on antibodies



David Spiegel, assistant professor of organic chemistry, has received a $1.5 million National Institutes of Health (NIH) Director's New Innovator Award that will support his work designing a "rational" approach for using antibodies to target a wide variety of cells and disease types.
READ STORY
---
O T H E R

S T O R I E S
The next issue of the Yale Bulletin & Calendar will be published on Friday, Nov. 9.
This artist's rendering reveals what the 14-story Smilow Cancer Hospital will look like when it is completed in 2009.
READ STORY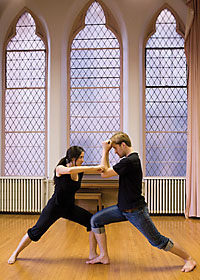 Students rehearse for the Yale Baroque Opera Project's first production, "Ardo, Ardo" ("I burn, I burn").
READ STORY