---




---



---


---
---




As this paper was going to press on Sept. 11, the tragic attacks against the United States were still unfolding.

Campus officials were already putting into place measures to help members of the Yale community cope with the consequences of today's news.

In the immediate wake of the tragedy, President Richard C. Levin issued the following statement: "We are shocked and saddened by the events of the last several hours and are doing all that we can to provide assistance and support to our students, staff and faculty."

The President encouraged those who work and study at Yale to continue to come together with other members of the University community in campus classrooms and workplaces to share their thoughts and feelings, and begin the process of recovery.
---



Yale's October Tercentennial Celebration will feature a formal Convocation on Cross Campus, a gala celebration in the Yale Bowl, a special symposium and the first Sunday football game in the University's history.
READ STORY






Edward P. Bass of Fort Worth, Texas has been named a Successor Fellow of the Yale Corporation, the University's governing board, President Richard C. Levin has announced.
READ STORY



Yale announced this month that it will augment undergraduate financial aid by reducing students' expected contribution by $13,780 over four years.
READ STORY



President Richard C. Levin has announced that Yale is naming one of its buildings in honor of Abby and Mitch Leigh.
READ STORY
---
O T H E R

S T O R I E S
Yale AIDS vaccine shows promise for humans

Faculty honored with Amistad Freedom Awards

Michael Merson named Lauder Professor of Public Health


Two scientists are appointed to Bliss Professorships in Public Health


Zhao named Hiscock Professor of Public Health, Genetics

Peru's growth 'From Village to Empire' is exhibit's theme

Display explores life and work of Colonial-era Jewish silversmith

Yale Rep opens season with 'splendid confection' by Shaw

Foundation's gift aids studies of cancers affecting women

'Gender Matters' conference to explore role of women at Yale

Yale Employee Day at Bowl features free admission, treats

Symposium will reflect on work of Yale alumni architects

President Richard C. Levin presents Freshman Address

Yale College Dean Richard H. Brodhead presents remarks to Freshman Assembly

Graduate students enter the 'creative milieu' of Yale

Scenes from Moving-In Day 2001

Symposium on the conservation of early Italian paintings will draw international experts

Committee to search for British Art Center director

Yale University Policy Statement on Student Records (Buckley Amendment)
---

Bulletin Home

|

Visiting on Campus

|

Calendar of Events



In the News

|

Bulletin Board

|

Yale Scoreboard



Classified Ads

|

Search Archives


|

Deadlines



Bulletin Staff

|

Public Affairs Home

|


News Releases



E-Mail Us

|

Yale Home Page
---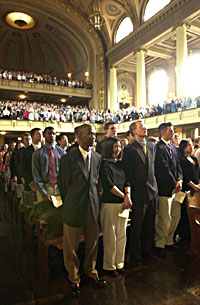 Members of the Class of 2005 stand during the Freshman Assembly in Woolsey Hall on Sept. 1.
READ STORY