---

---



---

---
SPECIAL SUPPLEMENTS
Special supplements of the Yale Bulletin & Calendar, including 'Yale & New Haven: A Progress Report,' are now available on-line.
---


President Richard C. Levin announced the appointment of alumnus Ernesto Zedillo, the former president of Mexico, as the director of the Yale Center for the Study of Globalization.
READ STORY

Other International Initiatives at Yale University


The Yale School of Management (SOM) is launching a new research and teaching center to study the controls imposed by governments on corporations around the world, and the relationship between these legal regulatory frameworks and the global economy.
READ STORY


Yale's Poynter Fellowship in Journalism will host a panel discussion on "Latin America's Global Reach," featuring journalists covering the region, on Thursday, April 18, at 4:30 p.m. in Rm. 127 of the Law School, 127 Wall St.
READ STORY
---
O T H E R

S T O R I E S
HUD secretary to visit as a Chubb Fellow

Visiting architect describes his creative process

Exhibition features art by 'consummate storyteller'

Peabody receives grant for Machu Picchu exhibit

Difficult quest for black education explored in forum

Noted psychologist Neal E. Miller, pioneer
in research on brain and behavior, dies

Study estimates the likelihood of stroke in elderly patients who have had heart attacks

Biotechnology companies are thriving in Connecticut with help from Yale science

Lecture to explore how biomaterials 'will change our lives'

Conference on 'God and the Ethics of Belief' pays tribute to retiring Yale philosopher Nicholas Wolterstorff

Event to explore latest research on mental illness

Gustav Ranis reappointed as Henry R. Luce Director of YCIAS

'Hot Flashes' explores world of womanhood after 50

Museum spearheading annual cleanup of New Haven Harbor
---
Bulletin Home

|

Visiting on Campus

|

Calendar of Events


In the News

|

Bulletin Board

|

Yale Scoreboard


Classified Ads

|

Search Archives

|

Deadlines


Bulletin Staff

|

Public Affairs Home

|

News Releases


E-Mail Us

|

Yale Home Page
---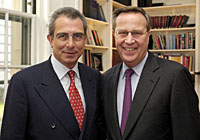 Ernesto Zedillo (left) is pictured during a recent meeting with President Richard C. Levin, who said the alumnus will bring "extraordinary credentials as an economist and public servant" to his new post at Yale.
READ STORY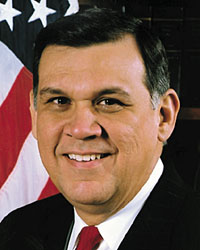 HUD Secretary Mel Martinez will be honored by Yale's Chubb Fellowship on April 15.
READ STORY