---




---




---


---
SPECIAL SUPPLEMENTS
Special supplements of the Yale Bulletin & Calendar, including 'Yale & New Haven: A Progress Report,' are now available on-line.
---



This year for the first time, Yale College applicants didn't have to set up camp at the mailbox to wait for the fateful news.
READ STORY






An annual tradition since the early 1980s, Communiversity Day brings area residents to campus for a day of free fun, education and entertainment. This year's celebration will be held 11 a.m.-3 p.m. on Saturday, April 20, on Old Campus (bordered by Chapel, High, Elm and College streets).
READ STORY


The slight economic gains felt by millions of single mothers who have moved off welfare and into low-wage jobs have not discernibly improved the living conditions of families or the daily lives of young children, according to a report released April 16 in Washington, D.C.
READ STORY


While the United States has achieved its primary military objective in Afghanistan by weakening the al-Qaeda terrorist network and putting an end to the Taliban regime which supported it, America now is "in serious danger of losing the peace" in that country, said Richard Holbrooke, former U.S. ambassador to the United Nations, during a visit to Yale.
READ STORY
---
O T H E R

S T O R I E S
Surgeon/trustee tells youngsters: Don't make excuses

F&ES adding four new assistant professors to faculty

'Journalists and Terrorism' is focus of Poynter talk

Conference to explore Agent Orange's effect on Vietnam's people and environment

IN FOCUS: Bright Bodies Program

Yale Rep staging tale about 'the sacrifice of innocence'

Gowin's aerial images capture human abuse of Earth

Related exhibits offer views of the changing American landscape

Scholar to discuss Freud's view of the biblical Moses

Theme of sacrifice in biblical literature is explored in exhibit

Leader in genome sequencing to speak at medical school

Benefit art auction will feature works by Yale faculty artists

Concert features musical portrait of 'Three Places in New Haven'

Yale scientists begin new round of tests on cocaine vaccine

Memorial service for James Tobin

Online parking renewals offered again
---

Bulletin Home

|

Visiting on Campus

|

Calendar of Events



In the News

|

Bulletin Board

|

Yale Scoreboard



Classified Ads

|

Search Archives


|

Deadlines



Bulletin Staff

|

Public Affairs Home

|


News Releases



E-Mail Us

|

Yale Home Page
---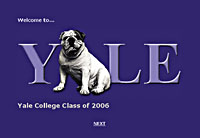 Those admitted to Yale College were given the good news by Handsome Dan and a "Bulldog, Bulldog" cheer.
READ STORY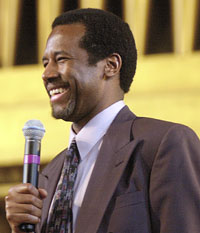 Yale trustee Dr. Benjamin Carson spoke about his life and career to a packed Woolsey Hall.
READ STORY