---




---




---

---
SPECIAL SUPPLEMENTS
Special supplements of the Yale Bulletin & Calendar, including 'Yale & New Haven: A Progress Report,' are now available on-line.
---



President Richard C. Levin announced that 18 emerging international leaders have been awarded the first Yale World Fellowships and will spend the fall 2002 semester in a new global leadership program at Yale.
READ STORY




World Fellows diverse in nationality and experience



A contribution by Korean business leader and Yale alumnus Seong Yawng Park has established the Kumho Visiting Professorship in Economics.
READ STORY


A center designed specifically to meet the needs of Yale undergraduate organizations is now open on Broadway.
READ STORY



The Yale Bulletin & Calendar (YB&C) is conducting an online survey designed to help the newspaper better serve its readers.
READ STORY
---
O T H E R

S T O R I E S
Journalists decry globalization's effect on Latin America

HUD Secretary hails spirit of volunteerism in the U.S.

Streets is reappointed as chaplain and is named acting master of Trumbull College


ALUMNI NEWS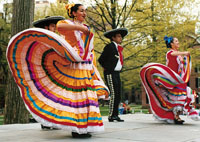 Old Campus was aswirl with activity on April 20 as Yale welcomed area residents to its annual Communiversity Day celebration of town-gown ties, which had as its theme this year "Celebrating Our Differences Together." These Spanish dancers were among the performers from the Greater New Haven area who, along with groups from Yale, entertained visitors throughout the day.
MORE PHOTOS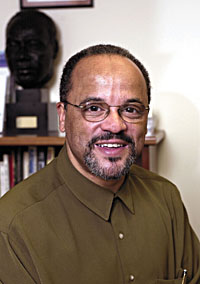 The Reverend Frederick J. Streets has been reappointed as Yale Chaplain and named acting master of Trumbull College.
READ STORY