---



---




---


---
SPECIAL SUPPLEMENTS
Special supplements of the Yale Bulletin & Calendar, including 'Summertime at Yale' and 'Yale & New Haven: A Progress Report,' are now available on-line.
---



The Yale Homebuyer Program marked another major milestone in June, reaching and surpassing the 500-participant mark.
READ STORY






Fifteen of the world's top 20 women's tennis players -- including three-time returning champion Venus Williams -- will compete in this year's Pilot Pen Tennis tournament, which will take place Aug. 16-24 at the Connecticut Tennis Center at Yale.
READ STORY



In the event of a smallpox attack, a mass vaccination policy would result in fewer deaths and faster disease eradication than alternative vaccination strategies, reports a team of researchers including a Yale professor.
READ STORY



In the basement of the Swing Space on a recent summer afternoon, a group of 15 young scientists were investigating several small plastic bags containing soil, fragments of bone and some other "mysterious" materials.
READ STORY
---
O T H E R

S T O R I E S
YALE SCHOOL OF MANAGEMENT NEWS


Research reveals disruption in brain linked to dyslexia in children

City's jam-packed concert series includes musical legends

Magazine names 59 Yale physicians 'top doctors'

Study dispels the notion that beta blockers cause depression

Midwife wins honor for her contributions

Elm Shakespeare Company to stage 'Macbeth' in scenic Edgerton Park

Purvis to perform in Chestnut Hill series
---

Bulletin Home

|

Visiting on Campus

|

Calendar of Events



In the News

|

Bulletin Board

|

Yale Scoreboard



Classified Ads

|

Search Archives


|

Deadlines



Bulletin Staff

|

Public Affairs Home

|


News Releases



E-Mail Us

|

Yale Home Page
---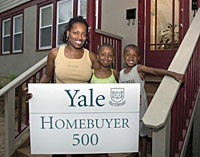 Shawn Webb, account assistant in Patient Financial Services at the School of Medicine, is one of the University employees who purchased a house in June, putting the Yale Homebuyer Program over the 500-participant mark.
READ STORY


Career High School students Adnan Khalid (left) and Alex Avila conduct an experiment in the biotechnology class that is part of the S.C.H.O.L.A.R. summer program.
READ STORY