---




---




---


---
SPECIAL SUPPLEMENTS
Special supplements of the Yale Bulletin & Calendar, including 'University Information' and 'Yale & New Haven: A Progress Report,' are now available on-line.
---



The architectural firm Kevin Roche John Dinkeloo and Associates has donated its Eero Saarinen papers to the Manuscripts and Archives division of the Yale Library.
READ STORY





Yale has received a four-year, $2.1 million grant from the Howard Hughes Medical Institute (HHMI) to support science education programs that enhance opportunities for undergraduates who study science at Yale and to fund science outreach programs for New Haven public schools.
READ STORY



Yale law student Adam Haslett meant the title of his recent short story collection, "You Are Not a Stranger Here," to be inviting to potential readers, but he never anticipated that the book -- his first -- would arouse international interest.
READ STORY



Yale took on a Hollywood atmosphere on Nov. 1 when scenes from Julia Robert's next feature film, "Mona Lisa Smile," were shot on campus.
READ STORY
---
O T H E R

S T O R I E S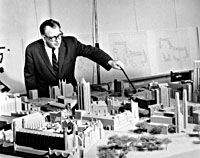 Eero Saarinen looks over a model of the campus as he reviews his design for Ezra Stiles and Morse Colleges, which were built between 1960 and 1962.
READ STORY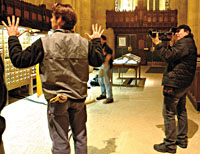 Sterling Memorial Library was the site of a recent shoot for a feature-length film starring Julia Roberts.
READ STORY