---




---




---

---
SPECIAL SUPPLEMENTS
Special supplements of the Yale Bulletin & Calendar, including 'University Information' and 'Yale & New Haven: A Progress Report,' are now available on-line.
---



Effective next year for the Class of 2008, Yale will no longer require college admissions applicants who are accepted early to commit to attend the University at the time that they apply.
READ STORY






President Richard C. Levin has announced that a new center to serve emeritus faculty as a place to meet and work will open in January 2003.
READ STORY



The Yale Child Study Center has received $11 million in grants -- and was designated the top research center among those awarded the funding -- to continue its internationally recognized research into autism and Asperger's syndrome.
READ STORY



The McDougal Graduate Student Center is celebrating its fifth anniversary this fall.
READ STORY
---
O T H E R

S T O R I E S
Former trade representative champions open markets

Graduate student Jun Saito wins a seat in Japanese Parliament

Yale artist tackles dirt and death in new projects

Fact feeds fiction in Yale alumnus' play 'Fighting Words'

Researchers create artificial 'light switch' to regulate genes

Display looks at 'Rocks, Gems and the Yale Seal'

Conference to focus on adolescents' alcohol, tobacco use

Yale staff consulted for soon-to-air PBS series on Benjamin Franklin

Graduate student to discuss Lyndon Johnson biography
---

Bulletin Home

|

Visiting on Campus

|

Calendar of Events



In the News

|

Bulletin Board

|

Classified Ads

|

Search Archives



Deadlines

|

Bulletin Staff

|

Public Affairs Home

|


News Releases



E-Mail Us

|

Yale Home Page

---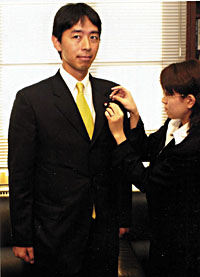 Jun Saito receives the legislator badge that allows him to enter the National Diet, home to the Japanese Parliament's House of Representatives.
READ STORY


This photo is from the Yale Rep's poster for "Fighting Words," which focuses on the three women Welch boxer Johnny "Matchstick" Owen left behind when he came to the United States for the bantamweight boxing championship.
READ STORY