---


---



---

---
SPECIAL SUPPLEMENTS
Special supplements of the Yale Bulletin & Calendar, including 'University Information' and 'Yale & New Haven: A Progress Report,' are now available on-line.
---


Alison Richard, who has served as Yale's provost for nearly nine years, has been nominated as Vice-Chancellor of Cambridge University by the Cambridge Council, the principal executive and policy-making body of the British institution.
READ STORY





This fall, for the first time, Yale is offering a course on preparing for bioterrorism and other disasters.
READ STORY


As the Holcombe T. Green Curator of American Paintings and Sculpture at the Yale University Art Gallery, Helen Cooper knows that a public museum cannot be static: While conserving and exhibiting the art and culture of the past, a museum must also reflect life in the present and take heed of the future, making it a timeless work-in-progress.
READ STORY


To date, the Whiffenpoofs, Yale's all-male a cappella singing group, have presented concerts in the White House for four U.S. presidents: Ronald Reagan, George H.W. Bush, Bill Clinton and ... Josiah Bartlett?
READ STORY
---
O T H E R

S T O R I E S
Grant supports drug research-training project in Thailand

Scientists aim to create drug with impact of low-cal diet

Master watercolor artists are featured in exhibition

Classic Spanish tale dramatizes the struggle for faith

Researcher aspires to 're-create' medieval monastery's library

Scholar's talk illustrates how art can 'unlock the world around it'

Former Law School dean Eugene Rostow dies; helped revamp school

Shopping is an art at Yale's museums

Open house for faculty will showcase technologies for teaching

Campus-wide toy drive will benefit local children
---
Bulletin Home

|

Visiting on Campus

|

Calendar of Events


In the News

|

Bulletin Board

|

Classified Ads

|

Search Archives


Deadlines

|

Bulletin Staff

|

Public Affairs Home

|

News Releases


E-Mail Us

|

Yale Home Page

---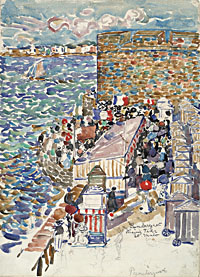 Maurice Prendergast's "Rising Tide, St. Malo" is among the works on view in the Yale University Art Gallery's exhibition "Masters of American Watercolor: From Homer to Hopper."
READ STORY


This fierce-faced figurine, available at the Peabody Museum shop, is one of the many offerings suitable for holiday gifts to be found in Yale's museum shops.
READ STORY