---




---




---


---
SPECIAL SUPPLEMENTS
Special supplements of the Yale Bulletin & Calendar, including 'University Information' and 'Yale & New Haven: A Progress Report,' are now available on-line.
---



President Richard C. Levin has named Susan Hockfield as the next Provost of the University. Hockfield, who was reappointed earlier this fall to a second term as dean of the Graduate School of Arts and Sciences, will succeed Alison Richard, who has been nominated as the Vice-Chancellor of Cambridge University.
READ STORY






Driansky and Weaver win Marshall Scholarships
Boudin and Tandon named as Rhodes Scholars


Flavell to hold Sterling chair in immunology
Lifton named as Sterling Professor of Genetics
Mellman awarded Sterling post in cell biology



The Hill Development Corporation (HDC) recently honored President Richard C. Levin for his leadership in building Yale's partnership with the City of New Haven, particularly the Hill neighborhood.
READ STORY
---
O T H E R

S T O R I E S
New center will investigate cocaine use among women

Neurobiologists win prestigious Gerard Prize

Online journal brings globalization issues to a broad audience

Belated news: Ecologist Gene Likens wins national honor

Yale-developed technology predicts patients' response to drugs

Group addressing gender-related issues in academia

Renovation of Yale Art Gallery building to begin this summer

'One Day at a Time' series to explore impact of civil rights struggle on average Americans

O'Neill sisters earn automatic qualification for NCAA track competition

Talk and tour to highlight event honoring birth of Ben Franklin
---

Bulletin Home

|

Visiting on Campus

|

Calendar of Events



In the News

|

Bulletin Board

|

Classified Ads

|

Search Archives



Deadlines

|

Bulletin Staff

|

Public Affairs Home

|


News Releases



E-Mail Us

|

Yale Home Page

---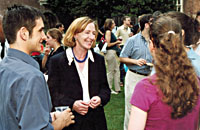 Susan Hockfield (center) chats with students at the Graduate School's fall Welcome Reception, which she initiated during her tenure as dean. Levin noted that Hockfield has "fostered an unprecedented sense of community" during her deanship there.
READ STORY


Nayan Chanda, the founder and editor of YaleGlobal Online, says he created the Internet journal to help "bridge the gap" between scholarly thought about globalization and the perceptions of the general public on issues associated with it.
READ STORY