---




---




---


---
SPECIAL SUPPLEMENTS
Special supplements of the Yale Bulletin & Calendar, including 'University Information' and 'Yale & New Haven: A Progress Report,' are now available on-line.
---



President Richard C. Levin has named psychology professor Peter Salovey as the next dean of the Graduate School of Arts and Sciences, effective immediately.
READ STORY






Yale received the top ranking in engineering, chemistry and law in Science Watch, a publication that measures the citation impact of published research in major fields of science and the social sciences among the top 100 federally funded universities in the country.
READ STORY



While on an expedition high in the Peruvian cloud forest in 1911, Yale archaeologist Hiram Bingham discovered what has been described as one of the most spectacular archaeological sites in the world -- Machu Picchu.
READ STORY



Yale is celebrating the life and legacy of the Reverend Martin Luther King Jr. with a series of events that began on his birthday, Jan. 15, and will continue through Jan. 20, the national holiday observed in his honor. Y
READ STORY
---
O T H E R

S T O R I E S
DeVane Lectures to explore literary, artistic realism

'Father of fractals' wins Japan Prize

Law School events focus on controversial Roe v. Wade opinion

Former Basic Books publisher takes the helm at Yale Press

Exhibits recall era of 'Romantics and Revolutionaries'

Exhibit features 'modernist' works by Edgar Degas

Show explores children's interest in the law and law-breakers

Artist's reinventions of Vermeer masterpieces are showcased

Ward Davenny, noted pianist and long-time Yale teacher, dies

Study shows benefits of exercise in reducing intra-abdominal fat

Drama school stages Shakespearean tale about a hero who becomes a public enemy

Playreading festival in New York City will feature new works of student playwrights

Peabody celebrating MLK Day with family activities, music, free admission

Talk and screening by alumnus to highlight Asian American film festival
---

Bulletin Home

|

Visiting on Campus

|

Calendar of Events



In the News

|

Bulletin Board

|

Classified Ads

|

Search Archives



Deadlines

|

Bulletin Staff

|

Public Affairs Home

|


News Releases



E-Mail Us

|

Yale Home Page

---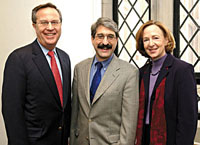 Peter Salovey (center) is pictured at the announcement of his appointment as dean of the Graduate School with President Richard C. Levin and Provost Susan Hockfield, who previously held the deanship.
READ STORY



Two Yale archaeologists believe that Machu Picchu was not a spiritual center or retreat for defeated Inca, as once believed, but a summer retreat for the society's elite.
READ STORY