---



---



---

---
SPECIAL SUPPLEMENTS
Special supplements of the Yale Bulletin & Calendar, including 'University Information' and 'Yale & New Haven: A Progress Report,' are now available on-line.
---


Two Yale professors are among 77 new members and nine foreign associates elected to the National Academy of Engineering, one of the highest professional distinctions that can be granted to an American scientist or engineer.
READ STORY





President Richard C. Levin has announced the reappointment of Robert A.M. Stern for a second term of five years as dean of the School of Architecture.
READ STORY


A major website highlighting Yale's global presence and making the University's international initiatives more accessible is being launched this week by the Secretary's Office.
READ STORY


Locals 34 and 35 of the Hotel Employees and Restaurant Employees (HERE) have called a strike against the University for March 3-7.
READ STORY
---
O T H E R

S T O R I E S
Thompson cited for work on African and Afro-American art

'Father of fractals' discusses 'essential' role of math in life

Noted historian Garry Wills will deliver the Tanner Lectures

Event to explore how lawyers can use media to tell their clients' stories

Campus event draws New Haven schoolchildren who 'THINK BIG'

One of the recording industry's youngest executives describes his career at master's tea

Study reveals consumers want more data from weight-loss programs

Parents show no risk of heart attack when witnessing children's surgeries

Bright Beginnings receives grant in support of its work with impoverished young mothers
---
Bulletin Home

|

Visiting on Campus

|

Calendar of Events


In the News

|

Bulletin Board

|

Classified Ads

|

Search Archives


Deadlines

|

Bulletin Staff

|

Public Affairs Home

|

News Releases


E-Mail Us

|

Yale Home Page

---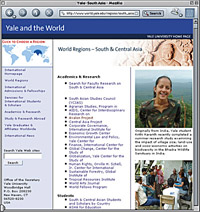 The new Yale and the World website will serve as a central resource on the University's many international programs.
READ STORY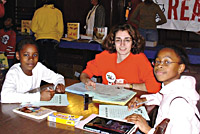 Yale junior Zhena Gjoka of Saybrook College chats with Yale University Book Club members Aaryn Ponteau, an 8-year-old from Forest School, and 10-year-old Briana Dawson of the Wexler-Grant School.
READ STORY