---




---




---


---
SPECIAL SUPPLEMENTS
Special supplements of the Yale Bulletin & Calendar, including 'University Information' and 'Yale & New Haven: A Progress Report,' are now available on-line.
---



The Broadway district's newest addition, the MexiCali Grille, opened its doors to the public on Feb. 28, ushering in Phase II of the area's revitalization by Yale's University Properties.
READ STORY






Donald Kagan, the Sterling Professor of Classics and History and former dean of Yale College, was among eight recipients of the National Humanities Medal for 2002 awarded by President George W. Bush at a White House ceremony on Feb. 27.
READ STORY



The Creed/Patton/Steele Scholarship has been endowed by Yale to recognize the importance of diversity in graduate and professional education, and to honor the achievements of Dr. Courtlandt Van Rensselaer Creed, the first African American to graduate from the Yale School of Medicine.
READ STORY



Mixing girls, marshmallows and spaghetti might sound like a recipe for a slumber party, but last week, it was part of the formula comprising Yale's first "Introduce a Girl to Engineering Day."
READ STORY
---
O T H E R

S T O R I E S
Former Yale provost, dean and scholar Georges May dies

Forum explores strategies for 'Teaching the Tough Stuff'

Yale Rep show offers new and old twists on Shakespeare's 'Taming of the Shrew'

Mapping of peptide may lead to ways of regulating appetite from within the brain

Exhibit features work by alumnus Joshua Meyer

Goldman-Rakic talk will benefit Fellowship Place
---

Bulletin Home

|

Visiting on Campus

|

Calendar of Events



In the News

|

Bulletin Board

|

Classified Ads

|

Search Archives



Deadlines

|

Bulletin Staff

|

Public Affairs Home

|


News Releases



E-Mail Us

|

Yale Home Page

---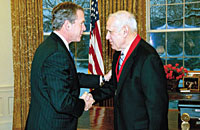 President George W. Bush congratulates Donald Kagan at the Feb. 27 White House ceremony where the Yale historian received a National Humanities Medal.
READ STORY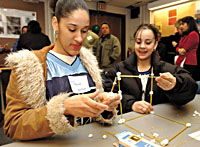 Ann Taylor (left) and Yomalil Gutierrez, both 13 and from Fair Haven Middle School, attempt to create a tower out of marshmallows and uncooked spaghetti.
READ STORY