---



---




---


---
SPECIAL SUPPLEMENTS
Special supplements of the Yale Bulletin & Calendar, including 'University Information' and 'Yale & New Haven: A Progress Report,' are now available on-line.
---



A committee performing the first comprehensive review of Yale College in 30 years has recommended changes to enhance instruction in writing, quantitative reasoning, science, art and language, and to support study abroad.
READ STORY






Robotic dogs adapted by teen students in the Bronx, New York under the guidance of Yale engineering professor Natalie Jeremijenko, will be released on May 14 at the Cement Plant park on Westchester Ave. in the Bronx.
READ STORY



New Haven youngsters are building their mathematical muscles with the help of Yale students through the America Counts tutoring program.
READ STORY



With the dual goals of fulfilling a principal mission of a great teaching institution and reflecting the highest values of a free and open society, President Richard C. Levin recently initiated a series of faculty-led discussions on the many ramifications of the Iraq war.
READ STORY



Vice President and University Secretary Linda K. Lorimer has issued the following advisory to the Yale community regarding travel to areas experiencing health crises.
READ STORY
---
O T H E R

S T O R I E S
Tiffany Card '04 of Saybrook College poses with one of the mechanical dogs that have been adapted to sniff out contaminants.
READ STORY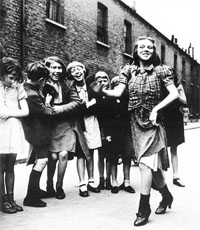 Among the works by British photographer Bill Brandt on view in the new exhibition at the Yale Center for British Art is "East End Girl Dancing the Lambeth Walk."
READ STORY