---




---




---


---
SPECIAL SUPPLEMENTS
Special supplements of the Yale Bulletin & Calendar, including 'University Information' and 'Yale & New Haven: A Progress Report,' are now available on-line.
---



The list of Yale affiliates who have received Pulitzer Prizes in recent years grew longer this month with the announcement that School of Drama teacher Nilo Cruz and alumna Samantha Power have won the prestigious award.
READ STORY






The nation's affirmative action programs, which have been so successful in opening doors to disenfranchised populations, may be nearing a turning point in their evolution, said Ruth Simmons, president of Brown University, in a talk on campus.
READ STORY



There is still far to go on the already-long road to a lasting peace between Israelis and Palestinians, but reaching that goal is both possible and important to the stability of the Middle East, concluded participants in a conference held April 7 at the Law School.
READ STORY



When recalling the first time he traveled in space, Yale Engineering alumnus and astronaut Eugene H. Trinh remembers waiting four-and-a-half hours while bolted to the infrastructure of the space shuttle wearing big earplugs and a full pressure suit and helmet.
READ STORY
---
O T H E R

S T O R I E S
UNIVERSITY TEACH-INS


Cruz relishes 'simple' pleasures of winning Pulitzer

Study: Carbohydrate level is not a factor in weight loss

Oh, the horror! Author Stephen King to read from forthcoming book

Promising entrepreneurs win awards for new business ideas

Celebrating a World of Diversity at Yale

Franz Rosenthal, scholar of Arabic literature and Islam, dies

Event to examine international financial institutions

Researchers win awards for psychiatric studies

Whiffenpoofs concert to benefit local group

CENTURY to provide funding for pilot projects

Free therapy offered as part of research study on depression
---

Bulletin Home

|

Visiting on Campus

|

Calendar of Events



In the News

|

Bulletin Board

|

Classified Ads

|

Search Archives



Deadlines

|

Bulletin Staff

|

Public Affairs Home

|


News Releases



E-Mail Us

|

Yale Home Page

---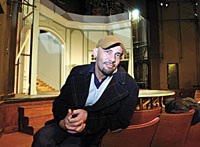 School of Drama teacher Nilo Cruz won the Pulitzer Prize in Drama for his play "Anna in the Tropics."
READ STORY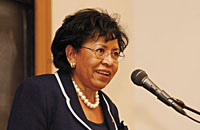 Universities play a significant role in "demonstrating the robustness of our evolution to a just society," Brown University Ruth Simmons remarked in her campus address.
READ STORY