---





---




---


---
SPECIAL SUPPLEMENTS
Special supplements of the Yale Bulletin & Calendar, including 'Building Strength in Biomedicine' and 'Summertime at Yale,' are now available on-line.
---



The Payne Whitney Gymnasium, home of innumerable contests of athletic prowess, will be the site of an intellectual face-off when the television show "Jeopardy!" holds its annual College Championship at Yale this fall.
READ STORY






People walking down the tree-lined block of Edwards Street between Whitney and Prospect streets will notice that an area the size of a football field, which had been an overgrown tangle of hemlocks and brush in May, is now a lush vegetable garden.
READ STORY



Deborah Rose, a member of the Yale Class of 1972, has spearheaded a major contribution to help underwrite the construction of a joint police station and community center that will benefit both Yale and the City of New Haven.
READ STORY



Yale researchers have, for the first time, identified two types of reading disability -- one primarily inherent, the other more environmentally influenced.
READ STORY



Rather than putting works from its permanent collection into storage while its building is being renovated, the Yale University Art Gallery has put them on display -- in New York City.
READ STORY
---
O T H E R

S T O R I E S
Compounds being developed to treat infectious disease

IN FOCUS: Community Rowing Program


MEDICAL SCHOOL NEWS


Beinecke Library to celebrate women in the arts

Pilot Pen tournament features tennis and much more

Meg Bellinger joins Yale staff as associate librarian

Dr. Robert Donaldson, former medical deputy dean, dies

Recent graduates win honors in international design competition

Mystery, humor, tragedy -- Yale Rep's new season has them all

Three journalists will enhance their legal reporting as Knight Fellows

Globalization's impact on health, gender explored

Search Committee Named for Beinecke Library Director

YUWO scholarships to help 11 Yale affiliates further their education
---

Bulletin Home

|

Visiting on Campus

|

Calendar of Events



In the News

|

Bulletin Board

|

Classified Ads

|

Deadlines



Search Archives

|

Bulletin Staff

|

Public Affairs Home



News Releases

|

E-Mail Us

|

Yale Home Page

---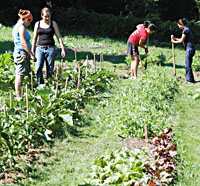 Yale students (from left) Julia Shrader Lauinger, Juliana Sabinson, Ivy Wang and Scarlet Kim tend to the crops at the University's first organic garden.
READ STORY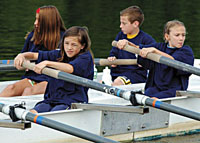 Area youths take to the water to learn the importance of teamwork as part of Yale's Community Rowing Program.
READ STORY