---




---



---


---
SPECIAL SUPPLEMENTS
Special supplements of the Yale Bulletin & Calendar, including 'University Information' and 'Yale & New Haven: A Progress Report,' are now available on-line.
---



Chemistry professor Alanna Schepartz has received a $1 million grant from the Howard Hughes Medical Institute (HHMI) to enrich undergraduate education in chemistry by creating courses that expose students to the excitement and creativity of cutting-edge research earlier in their college careers.
READ STORY






Capitalizing on a prominent asset of New Haven, a Yale graduate student has turned the city into a "museum" of modern architecture with an architecturally relevant way to provide information to viewers.
READ STORY



Kofi Annan, secretary-general of the United Nations, will deliver a lecture on Wednesday, Oct. 2 at 4:30 p.m. in Battell Chapel, corner of Elm and College streets.
READ STORY
---
O T H E R

S T O R I E S
Conference marks anniversary of Holocaust archive

Gift will continue work of Yale center devoted to studying impact of slavery

Educator stresses importance of grooming 'future Bouchets'

Murals at Peabody open 'window' on Maya culture

Exhibit showcases works by longtime Yale professor

'Blessing' of washerwoman's legacy brings New Haven policeman to Divinity School

Event advances knowledge of Vietnam's toxic legacy

Anti-drug advertising curbs teen use, says SOM researcher

Expert on racism during Civil War to join faculty

Just a Bowl of cheerers: Employee Day at the Yale Bowl

Lecturer speaks about newest issues in field of information technology

'Intersections' aims to close the rift between academic theories and community advocacy

Noted cancer specialist and surgeon Dr. Jack Westley Cole dies

Fair will acquaint (and re-acquaint) staff about myriad of University benefits available to them

Donations of computers can help bring India into 'Information Age'

College master showcases his private art collection

Quilts, photos featured in new show

Nursing school staff take part in training retreat

Rubenfeld featured in library book discussion
---

Bulletin Home

|

Visiting on Campus

|

Calendar of Events



In the News

|

Bulletin Board

|

Yale Scoreboard



Classified Ads

|

Search Archives


|

Deadlines



Bulletin Staff

|

Public Affairs Home

|


News Releases



E-Mail Us

|

Yale Home Page
---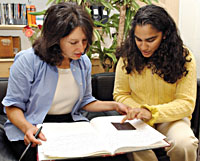 With a $1 million grant from the Howard Hughes Institute, Yale chemistry professor Alanna Schepartz (left) is developing sophomore-year courses designed to spark students' interest in chemistry.
READ STORY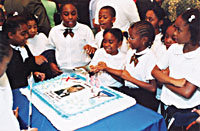 Sixth-graders from Wexler Grant School in New Haven helped cut the cake at the Sept. 18 celebration of the 150th anniversary of the birth of alumnus Edward A. Bouchet, Yale College's first African- American graduate and the first African American in the nation to earn a Ph.D.
READ STORY