---



---




---


---
SPECIAL SUPPLEMENTS
Special supplements of the Yale Bulletin & Calendar, including 'University Information' and 'Yale & New Haven: A Progress Report,' are now available on-line.
---

Richard Brodhead named to third term
Susan Hockfield begins second 5 years



With the guidance and inspiration of noted chef Alice Waters, Berkeley College hosted an all-organic banquet on Oct. 2 to kick off its campaign to introduce a new ethos in eating at Yale.
READ STORY



In a world where "no border is impermeable," the world's richer nations must work to ensure that all countries be given access to the economic, political and social benefits of globalization -- or pay the consequences later, warned Kofi Annan, secretary-general of the United Nations, in a talk on campus.
READ STORY



Parents' Weekend will take place this year October 11-13.
VIEW SCHEDULE
---
O T H E R

S T O R I E S
Yale's investments make modest gain

Architecture students make their home design a reality

The rise of online journalism will be the topic of Poynter Fellowship panel discussion by editors

Events celebrate British composer Sir William Walton

Show marks 75th year of Sacco and Vanzetti trial

Lectures, performances highlight museum-wide celebration at Yale Art Gallery

Artists will open their studios to public in city-wide event

Conference will explore new research on health issues of women
---

Bulletin Home

|

Visiting on Campus

|

Calendar of Events



In the News

|

Bulletin Board

|

Yale Scoreboard



Classified Ads

|

Search Archives


|

Deadlines



Bulletin Staff

|

Public Affairs Home

|


News Releases



E-Mail Us

|

Yale Home Page
---
U.N. Secretary-General Kofi Annan and Ernesto Zedillo, former president of Mexico and director of Yale's Center for the Study of Globalization, talk in the foreground, while U.N. officials Marta Maurás and Edward Mortimer look on.
READ STORY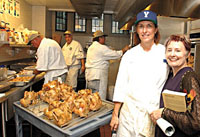 Organic food proponent Alice Waters (right) and Chez Panisse chef Seen Lippart visit the kitchen of Berkeley College during the preparation of the organic banquet.
READ STORY