---





---




---


---
SPECIAL SUPPLEMENTS
Special supplements of the Yale Bulletin & Calendar, including 'Building Strength in Biomedicine' and 'Summertime at Yale,' are now available on-line.
---
Class of 2007 has arrived



The 681 women and 673 men who make up the Class of 2007 officially began their first day of classes at Yale College on Sept. 3. They represented schools in all 50 states, two U.S. territories and 50 foreign countries.
READ STORY


Agent Orange left legacy of birth defects, says study



Yale researchers have found evidence of a connection between Vietnam veterans' exposure to the defoliant Agent Orange in Southeast Asia and the occurrence of birth defects and developmental disabilities in their children.
READ STORY

Locals 34 and 35 are on strike



Local 34 of the Hotel Employees and Restaurant Employees International Union, which represents clerical and technical workers at Yale, and Local 35, which represents service and maintenance employees went on strike Aug. 27.
READ STORY

Yale-United Way Campaign begins



The Yale United Way Campaign - the yearly initiative of faculty and staff to raise money in support of community programs and services - has begun in earnest on campus.
READ STORY
---
O T H E R

S T O R I E S
'Start with the Arts' will highlight city's attractions

Weekend workshop to explore the impact of SARS

Town Hall-style dialogue aims to reduce U.S.-Muslim tensions

While You Were Away: The Summer's Top Stories Revisited

Chinese literature scholar and translator Hans Frankel dies

Neurosurgeon and educator Dr. Franklin Robinson dies

Elizabeth Bradley is named first Yale recipient of John D. Thompson Prize

Summer was a season of service for Dwight Hall interns
---

Bulletin Home

|

Visiting on Campus

|

Calendar of Events



In the News

|

Bulletin Board

|

Classified Ads

|

Deadlines



Search Archives

|

Bulletin Staff

|

Public Affairs Home



News Releases

|

E-Mail Us

|

Yale Home Page

---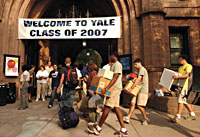 Phelps Gateway was bustling with activity on Aug. 29, as the new freshmen undertook their first rite of passage at Yale -- hauling all their possessions into their dorm rooms.
READ STORY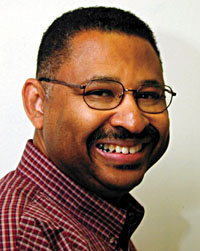 Physicist Homer Neal Sr. will present the final Edward A. Bouchet Sesquicentennial Lecture on Sept. 15.
READ STORY