---




---



---


---
SPECIAL SUPPLEMENTS
Special supplements of the Yale Bulletin & Calendar, including 'Yale & New Haven: A Progress Report,' are now available on-line.
---



Fourteen individuals from New Haven and Yale were honored for their efforts to strengthen town-gown ties at the 23rd annual Seton Elm-Ivy Awards ceremony held on April 30.
READ STORY






President Richard C. Levin will strengthen and expand Yale's ties to one of the United States' nearest neighbors during a trip to Mexico this month.
READ STORY



In order for the United States to maintain its position as a world leader in technological advances and innovation, improvements must be made in science and engineering education, government funds for basic science research and the quality of life around the globe -- so said the speakers at a forum on May 3 celebrating the 150th anniversary of engineering at Yale.
READ STORY


It was no coincidence that the University's African American Studies program was launched the same year women were first admitted as undergraduates, said Yale College Dean Richard H. Brodhead in his welcoming remarks at "African American Studies and Yale: Revisiting Origins, Imagining Futures," a combination reunion and academic conference held May 3-5.
READ STORY
---
O T H E R
S T O R I E S
ENDOWED PROFESSORSHIPS


Future of therapeutic cloning is focus of bioethics symposium

IN FOCUS: School of Forestry & Environmental Studies

Forest 'physician' contends fire is critical to health of woodlands

Event explores how humans transformed 'The Chicken'

Press director to bid farewell to venture he helped build

Committee to help search for new Yale Press director

Exhibit features noted American artist's woodcuts

Quilts by African-American women of the rural South are on view

Yale golfers and tennis players are bound for the NCAA

Long-time teacher Charles Rickart dies; helped introduce 'new math'

Sociologist Roger Gould, a specialist on conflict and violence, dies

Homebuyer Program is extended with a special incentive

Yale Library launching changes to Orbis

Yale Center for British Art temporarily closing library collections this summer
---

Bulletin Home
|
Visiting on Campus
|
Calendar of Events



In the News
|
Bulletin Board
|
Yale Scoreboard



Classified Ads
|
Search Archives

|
Deadlines



Bulletin Staff
|
Public Affairs Home
|

News Releases



E-Mail Us
|
Yale Home Page
---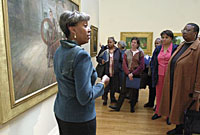 The African American Studies weekend celebration included a tour of the Yale University Art Gallery's collections. Here, Mary Kordak, the gallery's Jan and Frederick Mayer Curator of Education, talks about the painting "Spinning by Firelight" by African-American artist Henry Ossawa Tanner (1859-1937).
READ STORY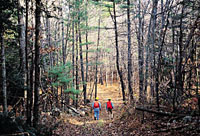 School Forest Manager Alex Finkral and David Ellum, a doctoral student at F&ES, conduct a routine inspection of Yale-Myers Forest.
READ STORY