---




---



---


---
SPECIAL SUPPLEMENTS
Special supplements of the Yale Bulletin & Calendar, including 'Summertime at Yale' and 'Yale & New Haven: A Progress Report,' are now available on-line.
---



President Richard C. Levin met with Mexico's President Vicente Fox at his official residence in Mexico City during a three-day trip to Mexico May 13-15.
READ STORY

Mexican doctoral students at Yale to receive added financial support

Yale research on Maya murals presented to Mexican anthropologists


President George W. Bush awarded the National Medal of Technology to Jerry M. Woodall, the C. Baldwin Sawyer Professor of Electrical Engineering -- making him the first Yale professor to receive the prestigious award.
READ STORY


Carmen Cozza, who coached Yale's football team for 32 years and holds the distinction of being the University's "winningest" coach, has been elected to the College Football Hall of Fame.
READ STORY
---
O T H E R

S T O R I E S
Yale physicist Devoret helps create 'artificial atom'


ENDOWED PROFESSORSHIPS


Stuart Schwartz to be new master of Ezra Stiles College

IN FOCUS: Yale University Health Services Center

Research offers new proof that babies can count

São Toméan president and new World Fellow visit campus

Joan Steitz honored for her work with 'snurps'

Alumni reunions feature talks, tours, music and more

Works by '1952's Authors and Artists' to be displayed

Graduate School will honor three faculty members for their mentoring

Library exhibit marks milestone for monarchy

Paintings by award-winning artist on view at Slifka Center

Graduate students get practical advice on interview etiquette

Longtime city resident named head of University Properties

Dwight Hall Management Fellows to oversee center's fundraising

Art gallery to showcase 'outsider art' at special fundraising event for Fellowship Place

Tennis coach Alex Dorato is honored as 2001 New England Coach of the Year

City gallery features national exhibition juried by Yale sculptor
---

Bulletin Home

|

Visiting on Campus

|

Calendar of Events



In the News

|

Bulletin Board

|

Yale Scoreboard



Classified Ads

|

Search Archives


|

Deadlines



Bulletin Staff

|

Public Affairs Home

|


News Releases



E-Mail Us

|

Yale Home Page
---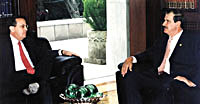 Duiring his recent trip to Mexico, President Richard C. Levin met with many officials from the nation's government, including Mexican President Vicente Fox (right), as well as many of the Yale alumni in the area.
READ STORY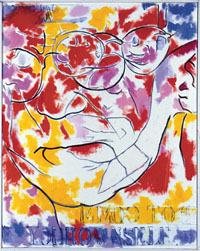 This original artwork by Denver Lindley Jr. adorns the poster for the reunion exhibition.
READ STORY