---



---




---


---
SPECIAL SUPPLEMENTS
Special supplements of the Yale Bulletin & Calendar, including 'Summertime at Yale' and 'Yale & New Haven: A Progress Report,' are now available on-line.
---


The 644 women and 660 men who make up the Yale College Class of 2006 will arrive on campus on Friday, Aug. 30.
READ STORY






Yale will commemorate the anniversary of the terrorist attacks on Sept. 11 with a number of educational and memorial events.
READ STORY



Indra Nooyi, a 1980 graduate of the Yale School of Management (Yale SOM) and the president and chief financial officer of PepsiCo, has joined the Yale Corporation as a successor fellow, President Richard C. Levin announced.
READ STORY


Yale students used the WIYN 0.9-meter telescope at Kitt Peak National Observatory to capture a series of still images of asteroid 2002 NY40 on Aug. 15-16, two nights before its close flyby of Earth.
READ STORY
---
O T H E R

S T O R I E S
Levin lauds Princeton president for her response to Web violation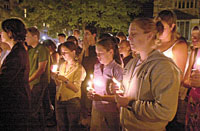 Last Sept. 11, hundreds of Yale community members gathered on Cross Campus for a candlelight vigil honoring those who died in the terrorist attacks.
READ STORY


Stephaine Darden of Sheridan Academy (left) checks out plant diversity with Michael Donoghue, curator of botany at the Peabody Museum, and museum assistant Greg Watkins-Colwell.
READ STORY