University to welcome Class of 2006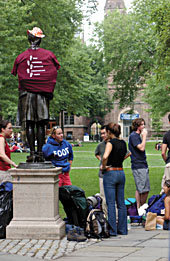 Participants in Yale's Freshmen Outdoor Orientation Trips (FOOT) continued their group adventures upon their recent arrival on campus by outfitting Nathan Hale in FOOT garb.
X

The 644 women and 660 men who make up the Yale College Class of 2006 will arrive on campus on Friday, Aug. 30.

The 1,304 members of the class were selected from among 15,466 applicants, a record number. The admissions rate of 13%, down from 13.8% for the Class of 2005, reflects a trend of increasing selectivity in the admissions cycle. Of the 2,009 students who were admitted, 66% chose to attend Yale, continuing a record of strong yields in recent years.

"The Class of 2006 is representative of the most academically qualified and competitive young people in higher education today. We are honored that, after being admitted to Yale, they have decided to attend," says Richard H. Shaw, dean of undergraduate admissions and financial aid.

Nearly 40% of the Class of 2006 has qualified for need-based financial aid grants from Yale. The average student scholarship grant for the Class of 2006 is $21,599 per year. The total Yale financial aid budget for these students for the 2002-2003 academic year is expected to exceed $11.3 million. None of this scholarship money is in the form of student loans or pay for campus jobs. Yale's financial aid policies are designed so that every student who is admitted may attend, regardless of ability to pay.

The incoming freshmen represent 47 states, 45 foreign countries and four U.S. possessions. They include 500 students from the Northeast, 248 from the West, 138 from the Midwest, 125 from the South, 86 from the mid-Atlantic states and 83 from the Southwest. International students make up 9% of the class.

The most popular majors indicated by the incoming students are molecular, cellular and developmental biology, 10.5%; political science, 7.2%; economics, 5.3%; and English, 5.3%. Majors in all areas of engineering represent 6.8% of the class. The students' median SAT scores were 730 in verbal and 730 in math.

Freshmen will engage in various orientation activities until classes begin Sept. 4. President Richard C. Levin and Yale College Dean Richard H. Brodhead will deliver their annual Freshman Addresses at 10 a.m. on Sept. 2 in Woolsey Hall, corner of Grove and College streets.
---
T H I S

W E E K ' S

S T O R I E S


University to welcome Class of 2006




Yale will commemorate anniversary of Sept. 11 attacks with discussion, reflection




PepsiCo president Indra Nooyi elected to Yale Corporation




Astronomy students capture asteroid's close fly-by of Earth




Levin lauds Princeton president for her response to Web violation




Howe appointed William R. Kenan Professor




Ma is named Raymond John Wean Professor




Conference to 'put a human face' on the Vietnam War




In Focus: Biodiversity and Human Health Institute




Study: Positive images of old age conducive to long life




Library's debut of Voyager makes searches easier




Show celebrates industrial art turned creative art




Wooden artworks from collection given to Yale gallery on view




Two environmental leaders to teach at F&ES as visiting faculty




Junior faculty honored




OBITUARIES


School of Architecture hosting '3D City' exhibition




Sri Lankan artist Jayasuriya's paintings on display at ISM




Ethics of studies on children to be explored in fall program




Talk focuses on technology's effect on humans




Journalists to gain insight into legal affairs as Knight Fellows




Yale Club of New Haven supports students' work in community




Proper skin care reduces chance of bedsores, say YSN researchers




Books in Brief




Campus Notes


---
Bulletin Home

|

Visiting on Campus

|

Calendar of Events

|

In the News

|

Bulletin Board



Yale Scoreboard

|

Classified Ads

|

Search Archives

|

Deadlines



Bulletin Staff

|

Public Affairs Home

|

News Releases

|

E-Mail Us

|

Yale Home Page
---