Show celebrates industrial art turned creative art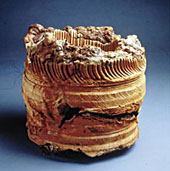 The exhibition of works by 20th-century American wood turners at the Yale Art Gallery includes objects of "exquisite refinement" as well as structures that recall "the massiveness of trees from which the wood comes," according to curator Patricia Kane. Mark Lindquist's 1982 work "Nehushtan" began as a cherry burl.
X

The evolution of "wood turning" -- the cutting of wood as it spins on a lathe -- from a technical skill taught in high school into a sophisticated 20th-century art form is traced in a new exhibition on view Sept. 10-Dec. 1 at the Yale University Art Gallery.

"Wood Turning in North America Since 1930" includes 134 works, ranging from simple bowls and vases to abstract sculpture, that have been brought together from public and private collections throughout the country.

The exhibition and its accompanying catalogue are the result of a collaboration between Albert LeCoff, executive director of the Wood Turning Center of Philadelphia, and a team from Yale that included Patricia E. Kane, curator of American decorative arts; Edward S. Cooke Jr., the Charles F. Montgomery Professor of American Decorative Arts; and Glenn Adamson, who was a doctoral student at Yale at the start of the collaboration and is now curator at the Chipstone Foundation in Milwaukee.

Widely taught in high school industrial arts classes in the 1920s, wood turning became a popular hobby in the 1930s. "[T]he legacy of the amateur who brought total engagement, high aspirations and a true passion to creation, was to reenergize the possibilities of turning in the middle of the century," writes Cooke in his catalogue essay. After World War II, the influx of elegant tableware from Scandinavia and the Museum of Modern Art's "Good Design Shows" also influenced American wood turners.

It was, however, in the wake of the Wood Turning Symposium in 1976 that the field truly came into its own, writes Adamson in his essay, noting that the event "suggested for the first time that turning was sufficiently important to qualify as a separate division within the crafts, on a par with the larger and more established media categories of ceramics, fiber, metal and glass."

A flowering of experimentation and creativity in the final decades of the 20th century produced a wide variety of works, notes Kane, who writes: "The diversity of approaches to this common material -- wood -- are almost as surprising as the diversity of wood itself."

The items on display, she adds, range from works of "exquisite refinement" to works that "leave evidence of wood structure brutally ripped apart and of the massiveness of trees from which the wood comes" to works with a humorous side, such as Michelle Holzapfel's "Domestic Violence II," an elaborately carved whirlwind of household objects sucked into a funnel.

The exhibition and its catalogue have been made possible in part by the Windgate Charitable Foundation, the Barra Foundation, the Chipstone Foundation, and the National Endowment for the Arts. Additional support has been provided by Robyn and John Horn (see related story), Jane and Arthur Mason, Ruth and David Waterbury, and the Wornick Family Foundation.

A number of special events have been scheduled in conjunction with "Wood Turning in North America since 1930," including a symposium to be held Friday-Saturday, Sept. 20-21. Registration is required. For further information and a registration form, contact Nancy Yates at (203) 432-0615 or at nancy.yates@yale.edu.

Information about other related events will appear in future issues of the Yale Bulletin & Calendar.

The Yale University Art Gallery, located at Chapel and York streets, is open 10 a.m.-5 p.m. Tuesday-Saturday; until 8 p.m. on Thursdays during the academic year; and 1-6 p.m. Sunday. Admission is free for individuals; groups should call (203) 432-8459 for information about fees and to make a reservation. An entrance for individuals using wheelchairs is at 201 York St., with an unmetered parking space nearby on York Street.

For information, call (203) 432-0606. For general and program information, call (203) 432-0600 or visit the museum's website at www.yale.edu/artgallery.
---
T H I S

W E E K ' S

S T O R I E S


University to welcome Class of 2006




Yale will commemorate anniversary of Sept. 11 attacks with discussion, reflection




PepsiCo president Indra Nooyi elected to Yale Corporation




Astronomy students capture asteroid's close fly-by of Earth




Levin lauds Princeton president for her response to Web violation




Howe appointed William R. Kenan Professor




Ma is named Raymond John Wean Professor




Conference to 'put a human face' on the Vietnam War




In Focus: Biodiversity and Human Health Institute




Study: Positive images of old age conducive to long life




Library's debut of Voyager makes searches easier




Show celebrates industrial art turned creative art




Wooden artworks from collection given to Yale gallery on view




Two environmental leaders to teach at F&ES as visiting faculty




Junior faculty honored




OBITUARIES


School of Architecture hosting '3D City' exhibition




Sri Lankan artist Jayasuriya's paintings on display at ISM




Ethics of studies on children to be explored in fall program




Talk focuses on technology's effect on humans




Journalists to gain insight into legal affairs as Knight Fellows




Yale Club of New Haven supports students' work in community




Proper skin care reduces chance of bedsores, say YSN researchers




Books in Brief




Campus Notes


---
Bulletin Home

|

Visiting on Campus

|

Calendar of Events

|

In the News

|

Bulletin Board



Yale Scoreboard

|

Classified Ads

|

Search Archives

|

Deadlines



Bulletin Staff

|

Public Affairs Home

|

News Releases

|

E-Mail Us

|

Yale Home Page
---