---



---




---


---
Sri Lankan artist Jayasuriya's paintings on display at ISM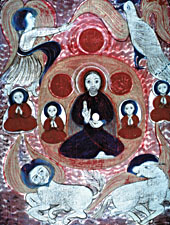 "Christ Mandala" on view at the Institute of Sacred Music.
X

An exhibition of paintings by noted Sri Lankan artist Nalini Jayasuriya will be on view at the Institute of Sacred Music (ISM) through Oct. 25.

Known around the world for her creations on religious themes, Jayasuriya has been the resident artist at the Overseas Ministries Study Center since 2001, having recently been named the Paul Lauby Artist in Residence there for the 2002-2003 academic year. Her work has been exhibited in Manila, London, Bangkok, Paris, Toronto, Tokyo, Jerusalem and New York. In addition she has lectured at Yale and at Tokyo University.

The artist has described her broad artistic interests and vision by saying, "I write, paint, sculpt, make stained glass windows and make music. I also dream, and sometimes try to understand beyond understanding, through form, color, movement, sound and silence."

The public is invited to meet Jayasuriya at an opening reception on Tuesday, Sept. 10, 4:30-6 p.m. at ISM, 409 Prospect St. The exhibition is presented with additional support from the Overseas Ministries Study Center and the Yale Divinity School.

Exhibition hours are weekdays 9 a.m.-4 p.m. Admission is free. For further information, call (203) 432-5180.
---
T H I S

W E E K ' S

S T O R I E S


University to welcome Class of 2006




Yale will commemorate anniversary of Sept. 11 attacks with discussion, reflection




PepsiCo president Indra Nooyi elected to Yale Corporation




Astronomy students capture asteroid's close fly-by of Earth




Levin lauds Princeton president for her response to Web violation




Howe appointed William R. Kenan Professor




Ma is named Raymond John Wean Professor




Conference to 'put a human face' on the Vietnam War




In Focus: Biodiversity and Human Health Institute




Study: Positive images of old age conducive to long life




Library's debut of Voyager makes searches easier




Show celebrates industrial art turned creative art




Wooden artworks from collection given to Yale gallery on view




Two environmental leaders to teach at F&ES as visiting faculty




Junior faculty honored




OBITUARIES


School of Architecture hosting '3D City' exhibition




Sri Lankan artist Jayasuriya's paintings on display at ISM




Ethics of studies on children to be explored in fall program




Talk focuses on technology's effect on humans




Journalists to gain insight into legal affairs as Knight Fellows




Yale Club of New Haven supports students' work in community




Proper skin care reduces chance of bedsores, say YSN researchers




Books in Brief




Campus Notes


---
Bulletin Home

|

Visiting on Campus

|

Calendar of Events

|

In the News

|

Bulletin Board



Yale Scoreboard

|

Classified Ads

|

Search Archives

|

Deadlines



Bulletin Staff

|

Public Affairs Home

|

News Releases

|

E-Mail Us

|

Yale Home Page
---