---


---


---


---
SPECIAL SUPPLEMENTS
Special supplements of the Yale Bulletin & Calendar, including 'University Information' and 'Yale & New Haven: A Progress Report,' are now available on-line.
---



Yale researchers have received a $3.4 million National Science Foundation grant to find a way of controlling plant diseases using the crops' own infection-fighting mechanisms rather than pesticides.
READ STORY






From its beginning with a solemn moment of silence at 8:46 a.m. -- marking the time that the first plane hit the World Trade Center -- to its ending with a candlelight ceremony on the Cross Campus lawn, the first-year anniversary of the Sept. 11 tragedy was commemorated at Yale with gatherings that allowed for quiet reflection, remembrance, discussion and the sharing of words of hope.
READ STORY



Yale employees can enjoy a free, fun-filled day at the Yale Bowl and watch the Bulldogs take on the University of San Diego on Saturday, Sept. 21, courtesy of the Department of Human Resources and the Department of Athletics.
READ STORY



Yale will host a conference exploring the history and consequences of American slavery in the North, Thursday-Saturday, Sept. 26-28.
READ STORY
---
O T H E R

S T O R I E S
Corporation names new senior fellow


ENDOWED PROFESSORSHIPS


In new programs, school partners with local health centers to address nursing shortage

Exhibit explores Romantic artists' interest in the natural world

Library displays book covers in 'Gleaming Gold, Shining Silver'

Newer antipsychotic medication helps curb some of the behavioral problems associated with autism, study shows

Noted Taliban expert and journalist will speak on campus

SOM Dean to kick off campus United Way campaign

Forum will boost public knowledge about forest certification and purchase of forest products

Event celebrates Cuban literature

Images from the Sept. 11 commemoration activities on campus

Library appoints four new senior department heads

Yale senior picked as one of Glamour's top 10
---

Bulletin Home

|

Visiting on Campus

|

Calendar of Events



In the News

|

Bulletin Board

|

Yale Scoreboard



Classified Ads

|

Search Archives


|

Deadlines



Bulletin Staff

|

Public Affairs Home

|


News Releases



E-Mail Us

|

Yale Home Page
---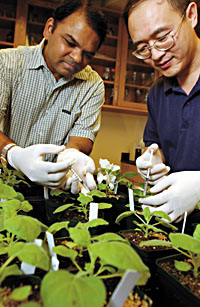 S.P. Dinesh-Kumar (left), shown here with postdoctoral student Yule Liu, is studying plant genomes to find ways to help them ward off infectious diseases.
READ STORY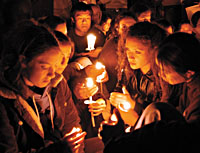 Students attempt to keep their candles lit during the Sept. 11 commemoration ceremony on a windy Cross Campus.
READ STORY