---



---



---

---
SPECIAL SUPPLEMENTS
Special supplements of the Yale Bulletin & Calendar, including 'University Information' and 'Yale & New Haven: A Progress Report,' are now available on-line.
---


A four-year, $1.2 million award from the W.M. Keck Foundation of Los Angeles will establish the W.M. Keck Foundation Center for Quantum Information Physics at Yale.
READ STORY





Israel's Ehud Barak on peace prospects in Middle East
Ireland's Mary Robinson on 'ethical globalization'


Not only are most states devoting little or none of the $246 billion tobacco settlement income to tobacco control programs, they also are failing to fund the programs from other sources, a study by a Yale researcher has found.
READ STORY


For nearly 40 years, whenever Renée Glassner thought or spoke about her childhood experience hiding out from the Nazis, she referred to herself in the third person, as if it had happened to some other young girl.
READ STORY
---
O T H E R

S T O R I E S
Journalists discuss Kashmir's role in Central Asian crises

Clot-busting drugs often improperly used, study finds

Show features Edwardian collector's 'unusual' acquisitions

Cats pose few risks for women who are pregnant, researchers say

Wedgwood named to U.N. Human Rights Committee

Employees urged to take full advantage of their benefits

Reunion events will explore the intersection of law and the arts

SOM summit will address the current issues facing women business leaders

Dr. Boris Astrachan, former CMHC director, dies at age 70
---
Bulletin Home

|

Visiting on Campus

|

Calendar of Events


In the News

|

Bulletin Board

|

Yale Scoreboard


Classified Ads

|

Search Archives

|

Deadlines


Bulletin Staff

|

Public Affairs Home

|

News Releases


E-Mail Us

|

Yale Home Page
---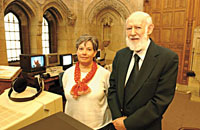 Joanne Rudof and Professor Geoffrey Hartman oversee an archive that includes more than 4,200 taped testimonies from witnesses to the horrors of the Holocaust.
READ STORY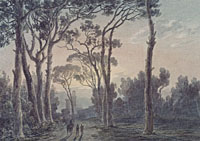 John Robert Cozens' 1783 watercolor "Florence from a Wood near the Cascine" was among the works acquired by collector Sir Hickman Bacon that will be on view in the new exhibition at the Yale Center for British Art.
READ STORY