---



---



---
---
SPECIAL SUPPLEMENTS
Special supplements of the Yale Bulletin & Calendar, including 'Yale & New Haven: A Progress Report,' are now available on-line.
---


The University is investing more than $200 million in the creation of the Yale Center for Genomics and Proteomics, a new initiative in these rapidly developing areas of scientific research.
READ STORY





A team of Yale engineers, scientists, physicians and their colleagues have received a $7.1 million grant from the National Institute of Biomedical Imaging and Bioengineering (NIBIB) to perform advanced bioimaging research that will provide neurosurgeons with a wealth of new information that could dramatically change the treatment of patients suffering from severe epilepsy.
READ STORY


A conference and reunion celebrating the past and future of African American Studies at Yale will take place Friday-Sunday, May 3-5.
READ STORY


Between his freshman and sophomore years at Yale, Bryan Mark Rigg '96 spent a summer in Germany that was to lead to his senior essay, his doctoral dissertation and ultimately his first book, "Hitler's Jewish Soldiers," he told an audience at a Silliman College master's tea on April 24.
READ STORY
---
O T H E R

S T O R I E S
Managing editor decries 'outrageous lies' in the media

See possibilities when job searching, editor advises

IN FOCUS: Resource Office on Disabilities

New website offers information on wheelchair access to campus facilities

Yale Engineering forum offers perspectives on
'Challenges to Innovation in the 21st Century'

Abnormal neurons may play role in SIDS, study suggests

Stories, adventures, journeys -- festival offers them all

Restorative home care helps elderly regain independence

In there a nurse in the house?

New Yale chapter offers support for Hispanic students

Study shows promising cocaine treatment is ineffective on humans

Local third-graders graduate from America Reads program

Yale affiliates awarded YUWO scholarships to continue studies
---
Bulletin Home

|

Visiting on Campus

|

Calendar of Events


In the News

|

Bulletin Board

|

Yale Scoreboard


Classified Ads

|

Search Archives

|

Deadlines


Bulletin Staff

|

Public Affairs Home

|

News Releases


E-Mail Us

|

Yale Home Page
---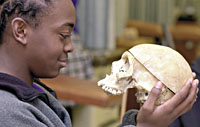 While it may look like a rehearsal of the graveyard scene from "Hamlet," this is actually an image from a class held at the School of Nursing for 7th-graders at St. Peter's/Sacred Heart School in New Haven. Here, student Bridell Thomas contemplates a skull used in the class.
MORE PHOTOS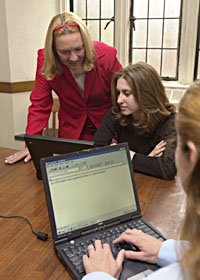 Judy York (left) arranges a special service for hearing-impaired student Melissa Felder in which a stenographer takes classroom notes that are then displayed on Felder's laptop computer.
READ STORY